cfd.exe is a part of Broad Jump / client foundation is a trouble-shooting software installed by many Internet Service Providers, such as Yahoo SBC Global DSL. Some say it is necessary, while others claim that it can safely be remove from the computer using the "Add/Remove programs" in the Windows Control Panel.
If you block or delete cfd.exe the BroadJump client from communicating, these functions will not work properly, and you might lose Internet connectivity. It is not recommended to remove this file without contacting your ISP.
the original file cfd.exe is considered a safe file. Modern Computer parasited can name any file anyhow, including the same name - cfd.exe. In that case cfd.exe can be malicious. 2-spyware.com research center do not have yet the infornation about exploits of cfd.exe.
Verdict - status of the file:
safe file
2-spyware.com research center gathers and checks all information related to cfd.exe. We ask ourselves the questions like: Do this file pose a threat? Does the filename is exploited by Malware? and other. The final status of the file is purely our opinion.
SAFE FILE status means that this file is completely safe and does not pose any threat.

Advice:
If your Computer seems Sluggish, or you see some unwanted Advertisements, redirects to the strange websites, then we recommend you to scan the system with reputable anti-spyware program. Do some FREE scan tests and you will see if there are some unwanted applications, whitch might be responsible for the tab stability of the system.
It might be that we are affiliated with any of our recommended products. Full disclosure can be found in our Agreement of Use. By downloading any of provided Anti-spyware software you agree with our
Privacy Policy
and
Agreement of Use
.
Alternate Software
Alternate Software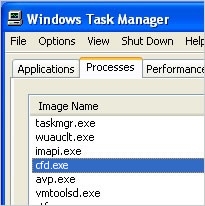 Information updated:

---
Comments on cfd.exe
Post a comment
Attention: Use this form only if you have additional information about a parasite, its removal instructions, additional resources or behavior. By clicking "post comment" button you agree not to post any copyrighted, unlawful, harmful, threatening, abusive, harassing, defamatory, vulgar, obscene, profane, hateful, racially, ethnically or otherwise objectionable material of any kind.