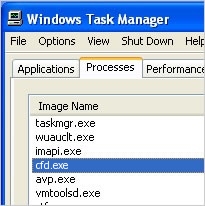 cfd.exe is a part of Broad Jump / client foundation is a trouble-shooting software installed by many Internet Service Providers, such as Yahoo SBC Global DSL. Some say it is necessary, while others claim that it can safely be remove from the computer using the "Add/Remove programs" in the Windows Control Panel.
If you block or delete cfd.exe the BroadJump client from communicating, these functions will not work properly, and you might lose Internet connectivity. It is not recommended to remove this file without contacting your ISP.
the original file cfd.exe is considered a safe file. Modern Computer parasited can name any file anyhow, including the same name - cfd.exe. In that case cfd.exe can be malicious. 2-spyware.com research center do not have yet the infornation about exploits of cfd.exe.
We might be affiliated with any product we recommend on the site. Full disclosure in our Agreement of Use.
By Downloading any provided Anti-spyware software you agree to our
privacy policy
and
agreement of use
.
If you know or you have a website or page about cfd.exe file, feel free to add a link to this list: