msascui.exe is a process that enables Windows Defender Antispyware to protect your computer. Released by Microsoft, this program guarantees that you will be protected against Internet-related cyber threats, such as spyware and trojans. msascui.exe is located in C:\Program Files\Windows Defender\ folder and should be left running on your machine when using this antispyware program. Mostly, it is installed together with Microsoft Vista operating system or simply when user installs Windows Defender Antispyware on his computer.
Many malware programs use legitimate processes to hide their malicious processes under them! In order to see if your msascui.exe file is legitimate, pay attention to its location – if non-Microsoft files can be found in C:\Windows\System32 folder, you may be infected. That's why we highly recommend our readers to check their computers with anti-malware tools, such as Reimage or PlumbytesWebroot SecureAnywhere AntiVirus.
Verdict - status of the file:
diagnosis required
2-spyware.com research center gathers and checks all information related to msascui.exe. We ask ourselves the questions like: Do this file pose a threat? Does the filename is exploited by Malware? and other. The final status of the file is purely our opinion.
DIAGNOSIS REQUIRED status means that this filename is exploited by the viruses. There can be the
dangerous file with the same name as the safe file. Use the Advice below:

Advice:
If your Computer seems Sluggish, or you see some unwanted Advertisements, redirects to the strange websites, then we recommend you to scan the system with reputable anti-spyware program. Do some FREE scan tests and you will see if there are some unwanted applications, whitch might be responsible for the tab stability of the system.
It might be that we are affiliated with any of our recommended products. Full disclosure can be found in our Agreement of Use. By downloading any of provided Anti-spyware software you agree with our
Privacy Policy
and
Agreement of Use
.
Alternate Software
Alternate Software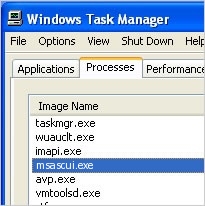 Removal guides in other languages
Information updated:

---
Comments on msascui.exe
Post a comment
Attention: Use this form only if you have additional information about a parasite, its removal instructions, additional resources or behavior. By clicking "post comment" button you agree not to post any copyrighted, unlawful, harmful, threatening, abusive, harassing, defamatory, vulgar, obscene, profane, hateful, racially, ethnically or otherwise objectionable material of any kind.