What is mshta.exe? Should I remove it?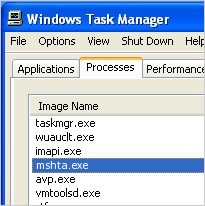 How Mshta.exe works?
Mshta.exe file is an executable file which can be found on Windows operating systems, specifically, in the C:WindowsSystem32 directory. Generally speaking, mshta is a legitimate file created by Microsoft that comes with every new computer which runs on Windows by default. The file is an important system component that is responsible for opening HTA (or HTMLS) types of files. We do not recommend terminating the process if you do not want to encounter system malfunctions later on. Nevertheless, there are situations when Mshta.exe termination and removal from the system is advisable and even crucial. One of such cases is when the computer gets infected with malware that hides under this inconspicuous file name and tries to carry out malicious processes using the malicious executable. Though virtually any cyber parasite may use Mshta.exe title to name the infectious files, there is currently one specific malware that causes most problems. It is a Japanese PUP (potentially unwanted program) that that generates pop-up ads and injects random web pages with sponsored links. Telling from its stealthy access of the computer and extensive ad injection capabilities, this PUP can be further labeled as adware. Such processes can eventually lead to some unexpected redirects to questionable websites where your computer may be targeted by aggressive drive-by downloads, or the hackers may try to get you involved in various scams. But before you begin the Mshta.exe removal, you should closely examine the file and determine whether it is not a system file and whether terminating this process is really safe.
How to recognize the malicious file?
Pop-up ads and various browser malfunctions may suggest that your computer is infected with some nasty malware, but this does not mean you have to terminate every Mshta.exe process that you see running on your Task Manager immediately. In fact, the malware may not be related with the mshta at all, so we suggest checking the location of the file first. If you find Mshta.exe placed anywhere other than C:WindowsSystem32 folder, then you have a serious argument for its removal. You may use Reimage or similar software to locate every component of the malware and remove Mshta.exe from your PC.
How to remove Mshta.exe?
When it comes to Mshta.exe elimination, you should be very careful. Though it is likely that this executable runs a malicious process, it may as well be a legitimate system file which removal may result in system instabilities and inevitable increased vulnerability. To help you indicate the legitimacy of the file, we recommend scanning your device with some computer security tool which will automatically indicate and delete any malicious files that it finds on the system in question.
verdict - status of the file:
diagnosis required
Advice:
If your computer seems sluggish, or you are suffering from unwanted advertisements and redirects to unknown websites, we highly recommend you to scan it with reputable anti-spyware program. Do some FREE scan tests and check the system for unwanted applications that might be responsible for these problems.
About the author
Removal guides in other languages