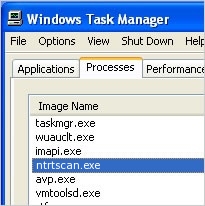 ntrtscan.exe is a legitimate process which belongs to Trend Micro AntiVirus application. This process should never be stopped if you want to be sure that your computer is protected against malicious programs, such as trojans, malware, adware and others. If you stop this process, note that you should limit your browsing and visit trustworthy websites only. ntrtscan.exe is a safe file and should be left running on your computer.
DANGER!
Some Internet users have reported that they get the errors related to ntrtscan.exe process. There are many reasons why you get these errors – sometimes it's because of unfinished software deletion, sometimes it's because of unfinished installation. However, this may also be caused because of corrupt system files, like malware or adware, that may be inside of your operating system. In order to check ntrtscan.exe process and remove dangerous files from your computer, we recommend scanning with SpyHunter or programs listed below:
We might be affiliated with any product we recommend on the site. Full disclosure in our Agreement of Use.
By Downloading any provided Anti-spyware software you agree to our
privacy policy
and
agreement of use
.
If you know or you have a website or page about ntrtscan.exe file, feel free to add a link to this list: