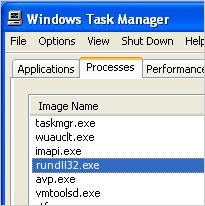 Rundll32.exe is a legitimate Microsoft Windows operating system's process, which is responsible for loading and running dynamic link library (.dll) files. Rundll32.exe comes with all versions of Windows OS and it works by employing a function that is exported from a specific DLL module. In non-technical terms, it helps to execute DLL files and place their libraries into the system's memory. Under no circumstances you should terminate this process because it's essential to the proper operation of your system.
DANGER!
Spyware, adware, keyloggers, Trojans and other viruses often hide behind the rundll32.exe process. Note that LEGITIMATE rundll32.exe file is normally located in the folder C:\Windows\System32. If your file's location is different, we highly recommend checking the system with anti-malware program. Malicious rundll32.exe may be related to Trojan horses StartPage, ZenDown, Rebohon or Wowcraft. Besides, it can also be used by a hacker to use your system as a bot and spread malware.
We might be affiliated with any product we recommend on the site. Full disclosure in our Agreement of Use.
By Downloading any provided Anti-spyware software you agree to our
privacy policy
and
agreement of use
.
If you know or you have a website or page about rundll32.exe file, feel free to add a link to this list: