tfswctrl.exe is a legitimate file, which is related to HP's packet writing software, also known as DLA Packet Writing Software. This program can be found on almost every computer from IBM, HP and other companies. Tfswctrl.exe provides a wide range of useful features: it controls the readability of the Combo drives, burns data to CDs using Microsoft Windows explorer and is responsible for similar useful activities. If you don't want to lose the ability to read your CDs or run into other system issues, you shouldn't terminate this process. However, it's not a core system file, so you MAY terminate it if you really do not want to use HP DLA software. tfswctrl.exe is located in "C:WINDOWSsystem32dla".
DANGER!
Any malware can be named anything, so tfswctrl.exe can also be involved to malicious activities. By using similar or identical names of legitimate files, viruses get ability to hide themselves from anti-viruses and prevent their elimination. If you think that tfswctrl.exe is acting strange, causing system slow downs and similar issues, you should check its trustworthiness. For that we recommend using RegCure Pro.
Verdict - status of the file:
diagnosis required
2-spyware.com research center gathers and checks all information related to tfswctrl.exe. We ask ourselves the questions like: Do this file pose a threat? Does the filename is exploited by Malware? and other. The final status of the file is purely our opinion.
DIAGNOSIS REQUIRED status means that this filename is exploited by the viruses. There can be the
dangerous file with the same name as the safe file. Use the Advice below:

Advice:
If your Computer seems Sluggish, or you see some unwanted Advertisements, redirects to the strange websites, then we recommend you to scan the system with reputable anti-spyware program. Do some FREE scan tests and you will see if there are some unwanted applications, whitch might be responsible for the tab stability of the system.
We might be affiliated with any product we recommend on the site. Full disclosure in our Agreement of Use.
By Downloading any provided Anti-spyware software you agree to our
privacy policy
and
agreement of use
.
AV installation phone support
tfswctrl.exe screenshot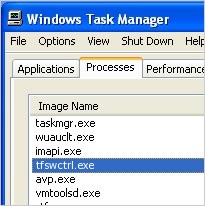 Information added: 2014-05-21 07:22
Information updated: 2014-05-21 07:22
Additional resources related to tfswctrl.exe
Attention:
If you know or you have a website or page about tfswctrl.exe file, feel free to add a link to this list:
add url

---