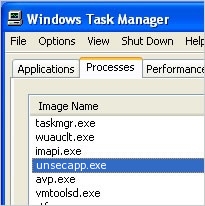 unsecapp.exe is a legitimate Microsoft Windows server and workstation process, which is important for a stable and secure PC's work. This process is set to run automatically every time when the system boots up. When running, unsecapp.exe is used to solve compatibility issues, so we don't recommend terminating it. However, unsecapp.exe may start giving errors because of conflicting with other applications. In this case, you should reinstall the operating system.
We might be affiliated with any product we recommend on the site. Full disclosure in our Agreement of Use.
By Downloading any provided Anti-spyware software you agree to our
privacy policy
and
agreement of use
.
If you know or you have a website or page about unsecapp.exe file, feel free to add a link to this list: