Google redirect: how to remove this virus
Google redirect is a serious problem which results in continuous redirections to random pages having nothing in common with user's search query on Google or other search engine. According to experts, it is closely related to browser hijacker, adware and similar types of malware. This issue is initiated for making the money and increasing traffic to needed websites that are trying to increase their sales or page rank on Google. Beware that Google redirects may end on malicious website trying to steal your personal information or seeking to infect you with malware.
This issue is usually followed by another issue – different kinds of advertisements that appear in various forms, such as pop-ups, in-text ads, banner ads and similar notifications. Please, do NOT fall for their tricky titles because they can hardly help you save the money or get needed updates. To sum up, having Google redirect virus on your computer means lots of serious problems that can be avoided only by removing this threat from the system. The most serious thing is that you need to find the virus that causes these issues on your computer yourself.
How can I get infected with Google Redirect virus?
Google redirect is mostly caused by a browser hijacker. However, TDSS, Alureon or Tidserv viruses can also be related to this problem. As soon as browser hijacker or other threat gets into the machine, it initiates a serious mess in user's web surfing routine. Besides, you can find yourself disconnected from many Internet websites and services. In addition, you can be redirected to various sites that are either harmless commercial websites or dangerous sites that are associated with Internet criminals.
Avoiding Google Redirect virus
If your machine is protected by a licensed version of anti-spyware and anti-virus programs, you can be calm while browsing the Internet because there is almost no risk to get Google redirect virus on your PC. However, failing to protect your machine with licensed software opens the backdoors of the system and makes it vulnerable to cyber threats.
Google redirect virus removal
If you have been suffering from Google redirect virus, follow the steps listed below and make your browsing activity normal again.
Scan your computer with updated anti-spyware programs:
Check Hosts file for malicious entries:
Hosts file is on C:\Windows\System32\Drivers\etc\hosts where Windows is your windows installation directory. On Windows 7/Vista/8, you should open your hosts file with administrative privileges. For that, use these steps:
Click Start -> right-click on Notepad icon -> Run as administrator
Click File with Notepad -> Open.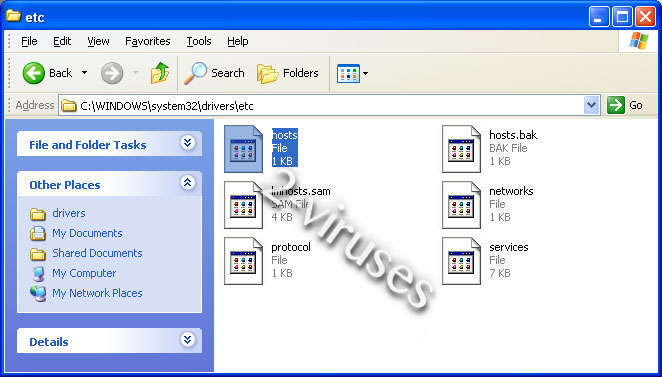 It will look like this: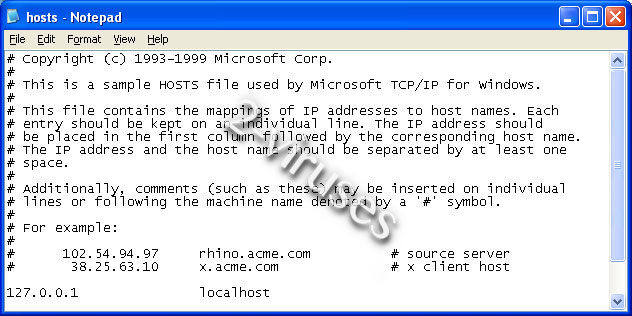 Pay attention to lines and IPs: if you see more, delete these, especially if they rewrite google or Microsoft subdomains.
Check Domain Name Server (DNS) settings:
Go Control Panel-> Network Connections -> select Local Area Connection;
Then you should right-click the icon and choose Properties.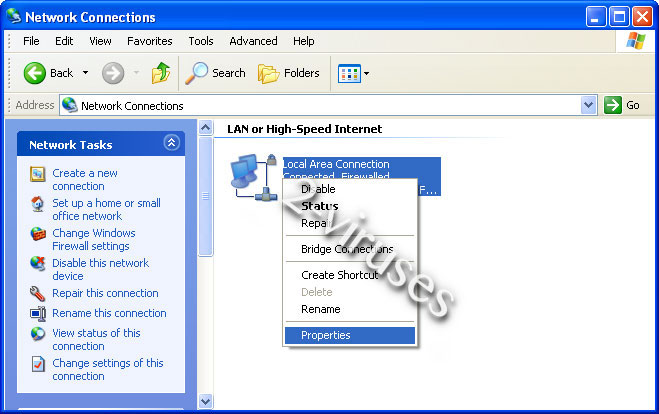 You should see a window;
Select Internet Protocol (TCP/IP) and click Properties as it is shown in a picture below: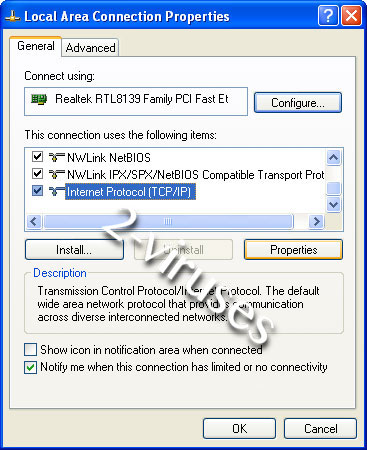 New window (Internet Protocol window) will show up;
Click Obtain an IP address automatically and Obtain DNS server address automatically;
Finally, click OK to save the changes: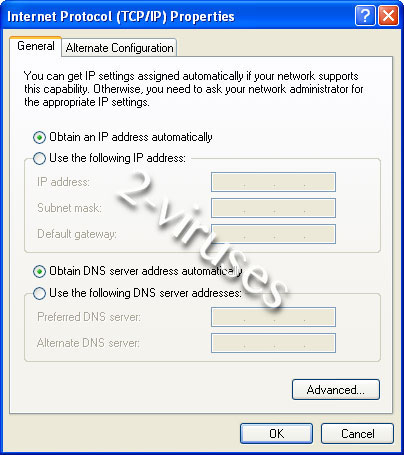 Check your proxy settings:
For Internet Explorer:
Launch IE, then go Tools ->Internet Options;
Click Connections tab and press Local Area Network (LAN) Settings as it is shown is a picture: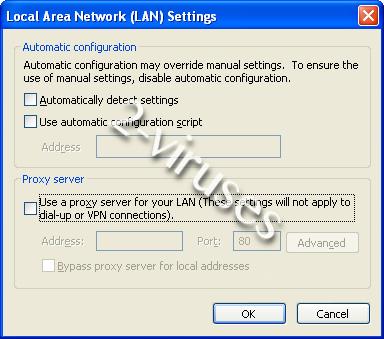 Deselect everything or enter parameters that were given by system administrator and press OK.
For Mozilla Firefox
Launch Mozilla Firefox, then go Tools ->Options;
Additionally, press Advanced and open Network tab. Press Settings button.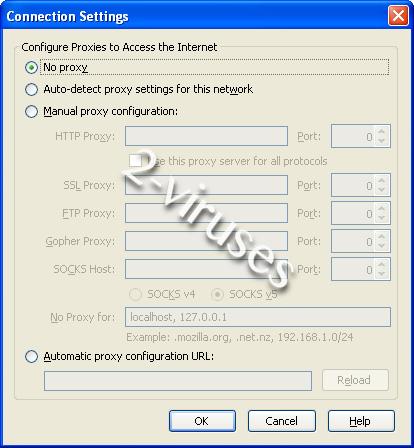 Select No proxy or enter parameters that were given by system administrator and press OK.
For Google Chrome:
Click Customize and Control Google Chrome menu -> Options;
Now under Google Chrome Options select Under the Hood tab -> Network –> Change proxy settings;
Now in the Internet Properties window, click Lan settings button -> Local Area Network (LAN) Settings;
Uncheck the Use Proxy server for your LAN and click OK.
Check your browser add-ons:
For Internet Explorer:
Launch IE, then select Tools->Manage Addons;
Delete all add-ons that look spammy/unknown or simple are unverified (there might be some useful ones, but better re-install them after some time).
For Mozilla Firefox:
Launch Mozilla Firefox, select Tools -> Manage Add-ons;
Disable add-ons that are unknown/unverified/spammy.
For Google Chrome:
Open Google Chrome, click on a wrench icon -> select Tools -> Extensions;
Locate unknown and unverified entries, select them and click on a trash can icon.
Besides, you may also need to change the settings of your default search engine/start page on each of these browsers.
About the author