More than one year ago, a Romanian man, Marcel Datcu, killed his son and himself after discovering a FAKE warning on his computer's desktop. The corrupt warning claimed that FBI noticed him while he was visiting a pornographic website and now he has to pay a fine of 70.000 lei (equal to more than 18.000 euros) to avoid getting into jail for 11 years. A victim decided to take the harsh way to avoid the punishment invented by ransomware owners. Before taking his son's and his own life, he wrote a suicide note. It told that he cannot go to jail for 11 years and leave his son to suffer alone.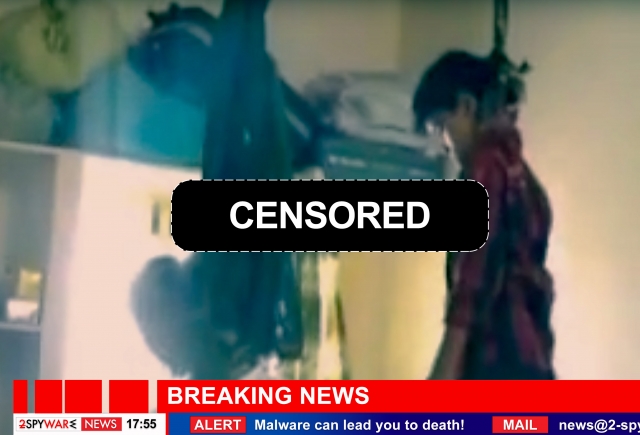 Unfortunately, this is not the only death caused by malware. There are tens of similar examples showing how shady hackers can be when they seek to take the money from their victims. After infecting target PC systems, they use scary notifications trying to convince their victims that they are dealing with governmental authorities or other parties that can't be ignored. If a victim lacks of technical skills to tell which warning message is real and which one belongs to cyber criminals, he or she may decide to take his/hers own life or may simply die after the heart attack.
One of such victims is Corrie Santayana (the name was changed and is known for the editorial board), who was involved into serious malvertising campaign relying on a Blue Screen of Death. Blue Screen of Death (or BSOD) is a social engineering technique used to show desired content (notifications, banners, and pop-up ads) while people are browsing on the Internet. While some of the victims can easily decide to ignore the message as the fake one, others can be convinced that they need to follow specific commands to save themselves. Corrie decided that an alert telling that "Windows Heath is Critical! Do not restart! Please contact Microsoft technicians" is the real one. After calling to hackers, he was told that he needs to purchase a special support package that costs $1000. The man didn't wait for long and made a bank transfer to pay for non-existent and quite not cheap "software package". Unfortunately, he needed just a couple of hours to find out that he gave his money for scammers. After his son had told him that he was scammed, the man died in his living room because of the heart attack.
Security experts warn people that there are hundreds of different techniques used by hackers to put them into danger. These criminals can not only try to steal their money. They can also lead them to death.
If you want to protect yourself and people around you (your parents, children and other family members), you should think about a reliable security solution. Remember that only a trustworthy anti-spyware can help you to spot the malicious pop-up ad, a fake warning or a fraudulent file, which is trying to infect your computer. If you are still looking for a reliable anti-malware, think about Reimage, which is considered a premium malware protection tool and has been used by thousands of PC users.
About the author
Read in other languages