Author - Jake Doe - 2-spyware.com
Posts published by Jake Doe
What should I know about VideoBox player? VideoBox virus is advertised as a free media player application that is able to open various video formats, download videos from Arabian version of Hao123.com movies, and more. As far as we know, Hao123.com is an infamous browser hijacker, and it automatically makes us think that VideoBox might be untrustworthy, too.
More
HakunaMatata ransomware operation guide HakunaMatata ransomware is a file-encrypting malware that uses a popular phrase from "The Lion King." Even though this lovely saying means "no worries," encountering ransomware can cause you serious trouble. This piece of ransomware belongs to the same family as NMoreira ransomware and has even been named the second ve...
More
Dharma ransomware group keeps growing, new versions emerge regularly Dharma virus is a dangerous ransomware which reached malware analysts in November 2016. In the beginning, many speculations emerged about this cyber infection. Experts were discussing weather this virus is an original creation of ransomware developers or just a newer version of some larger family of...
More
Can 2017 be the year of CryptoLocker revival? CryptoLocker virus is a malicious cyber threat which was initially spotted in 2013 .
More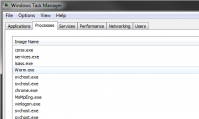 All you need to know about Worm.exe file on your desktop Worm.exe is a malicious executive file that is usually associated with Dharma ransomware.
More
Ransomware attacks are always threatening and damaging experience, especially for those who do not back up their files regularly.
More
Why do my browser automatically open Aqovd.com search engine for me? If your browser automatically redirects you to Aqovd.com site, it means that Aqovd.com virus is installed on your PC and you need to take actions immediately. Even at the first glimpse at that website, you can realize that it does not look trustworthy - it is simply overloaded with links, shortcuts...
More
Locky ransomware 2017: developers of the virus work consistently, the number of victims continues to grow Locky ransomware is a cryptomalware that showed up in the beginning of 2016. Since then, it has been constantly changing its distribution technique and functionality used to extort people's money. It seems that this strategy can be considered successful becaus...
More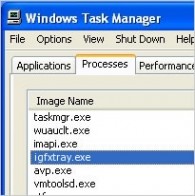 What does igfxtray.exe do? Igfxtray.exe is a legitimate process running on the Windows operating system and known as The Graphic Accelerator Helper model.
More
How reliable is the msdc.exe file? Msdc.exe file is a malicious executable, which is associated with a computer infection known as the Kalshi Trojan. Generally speaking, Trojans are fraudulent programs that disguise themselves as legitimate software but secretly carry malware into the unsuspecting user's computers.
More