Adware.LivePlayer
is also known as
Adware.Win32.LivePlayer
| Type:
Adware
Adware.LivePlayer is an adware infection that can secretly install potentially unwanted application called Live-Player. This parasite may display annoying Live-Player advertisements and track online habits. Fake video codec might be also required, supposedly to watch Live-Player videos. Most of the time such video codecs are dangerous malware infections that can seriously compromise system security. Remove Adware.Win32.LivePlayer from your computer immediately after detection. Adware.LivePlayer removal process is explained in details below. Related files:
uninstall.lnk
Adware.LivePlayer properties
:
• Changes browser settings
• Shows commercial adverts
• Connects itself to the internet
• Stays resident in background
Automatic Adware.LivePlayer removal:
It might be that we are affiliated with any of our recommended products. Full disclosure can be found in our Agreement of Use.
By downloading any of provided Anti-spyware software to remove Adware.LivePlayer you agree with our
Privacy Policy
and
Agreement of Use
.
Alternate Software
Virus Removal Phone Support
Adware.LivePlayer screenshot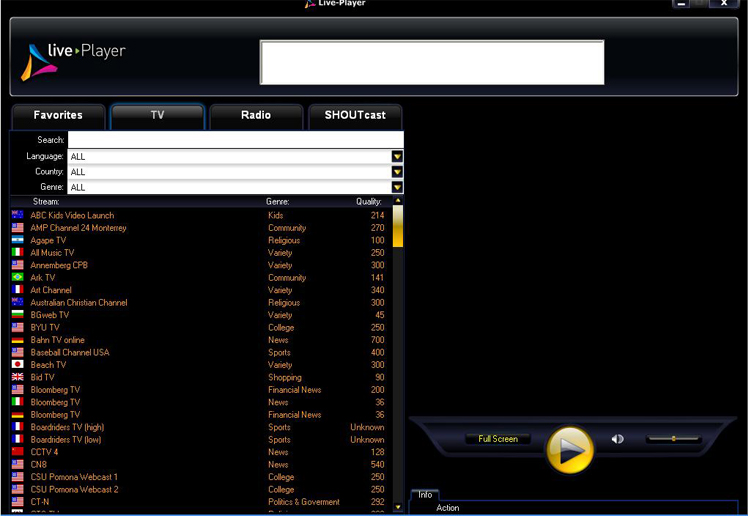 Adware.LivePlayer manual removal
Kill processes
:
live-player.exe
Delete files:
Live-Player.lnk
translation_file_live-player.xml
live-player.skf
Uninstall.lnk
live-player.exe
Website.url
Privacy Policy.url
Terms and Conditions.url
Delete directories:
C:\Documents and Settings\All Users\Start Menu\Programs\Live-Player
C:\Program Files\Live-Player\skins
C:\Program Files\Live-Player\data
C:\Program Files\Live-Player
QR code for Adware.LivePlayer removal instructions

QR is short for Quick Response. They can be read quickly by the mobile phones. QR codes can store more data than standard barcodes, including url links, geo coordinates, and text.
The reason we add QR code to the website is that parasites like Adware.LivePlayer are really hard to remove on infected computer. you can quicly scan the QR code with your mobile device and have manual removal instructions to uninstall Adware.LivePlayer right in your pocket.
Simply use the QR scanner and read removal instructions from mobile device.
Information added: 2009-05-12 02:24
Information updated: 2009-05-12 02:26

Additional resources
Attention:
If you know know a reputable website reated to security threats, please add a link here:
add url