Antivirii 2011. How to remove? (Uninstall guide)
Antivirii 2011 is a rogue antivirus program that belongs to the same family of rogues as Antivirus Clean 2011. The program uses fake scanners and imitates looking for infections. In fact it cannot detect anything and the only goal of Antivirii 2011 is to make computer users think that their systems are infected and then sell its fake program.
Antivirii 2011 is configured to start automatically with each system reboot. The program runs its scanner without asking if you want the scanner to be run. After a few minutes of scanning, Antivirii 2011 warns that the system is infected and recommends getting its full version, so it could finish the scan and remove all detected threats. In fact, the program is created this way in order to swindle away the money of random computer users.
The program also causes tons of security notifications displayed on your machine which once again warn about threats detected on your machine and claim that these viruses need to be eliminated immediately. Here is how these messages look like:
Your computer is in danger!
Antivirii 2011 has detected some serious threats to your computer!
These viruses need to be eliminated immedeately ! Please click this icon to remove threats.
Your system is infected!
Your computer is compromised by hackers, adware, malware and worms!
Antivirii 2011 can remove this infection. Please click this icon to remove threats.
What is more, you will not manage to launch your Windows task manager to stop the processes of this badware. This is another trick by the creators of Antivirii 2011.
Undoubtedly, Antivirii 2011 is a fake antivirus program that must be removed as soon as possible. Use a legitimate and updated removal tool to get rid of Antivirii 2011 quickly and easily.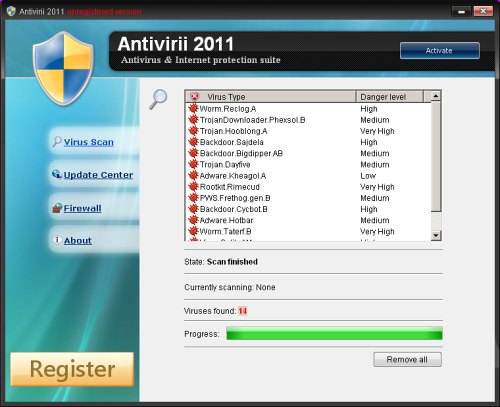 Antivirii 2011 manual removal:
Kill processes:
%Windows%antivirii.exe
%Windows%[random].exe
Delete files:
%Windows%antivirii.exe
%Windows%[random].exe
About the author