Antivirus XP Hard Disk Repair v9. How to Remove? (Uninstall Guide)
Antivirus XP Hard Disk Repair v9 is a ransom Trojan that pretends to be legitimate antivirus software. It states that your computer is infected with Trojan.Agent.ARVP as a ploy to scare you into purchasing the rogue software. Scammers claim that this virus was created to delete your files and if you won't hurry up you will lose all your data. Of course, that's a lie; this trojan cannot encode and delete your files as it claims. Despite this, Antivirus XP Hard Disk Repair v9 ransowmare is a very dangerous malware because it infects the Master Boot Record restricting access to Windows. Similar trojans usually block your computer screen but this one won't even allow starting Windows.
Antivirus XP Hard Disk Repair v9 Your PC was infected with Trojan.Agent.ARVP. This is a computer virus created especially to delete information from PCs of business competitors. Probably one of your participated in this act, which was aimed to damage or even ruin your company.
All exciting information was encoded with resistant crypto algorithm EAS-256 which is impossible to decode with common methods.
Reinstalling the operating system will lead to DELETION OF ALL INFORMATION irretrievably. Our company specialists succeeded in identification of vulnerable places in the working algorithm of Trojan.Agent.ARVP virus and uploaded to your PC the special version of Antivirus XP HardDiskRepair v9 so that you could have a chance to recover your files. Our program received important HDDKey, which is urgently important for decoding of the disks. To cure your PC and decode all your disks you have to purchase the license for Antivirus Hard Disk Repair v9 antivirus product and send us your HDDKey though the license registration form.
Decoding the password will apply AMAZON cloud technologies and vulnerabilities in the crypto algorithm EAS-256. We require from one to twenty four hours to decode the password from your disks. The password will be sent to your E-mail address. License activation: http://www.antivirusharddiskrepair.ru/04762/ If the web-site is not available try again in several hours.
The trojan generates a HDDkey for each infected computer depending on hardware configuration. If you want to receive password, you need to fill in the registration for at http://www.antivirusharddiskrepair.ru/04762/ and provide your HDDKey. Scammers claim they will send you the password during a couple of hours. However, it goes without saying that you shouldn't send you money to scammers. DrWeb, information security company, created a free tool that will generate the passoword according to your HDDKey. Please generate your password here: http://vms.drweb.com/mbrlock16+keygen/. Once you can access Windows, scan your computer with anti-spyware application. Entering password removes the fake message but doesn't remove the virus itself.
It might be that we are affiliated with any of our recommended products. Full disclosure can be found in our Agreement of Use. By downloading any of provided Anti-spyware software you agree with our
Privacy Policy
and
Agreement of Use
.
Alternate Software
Alternate Software
We are testing Malwarebytes Anti Malware's efficiency (2012-01-23 08:46)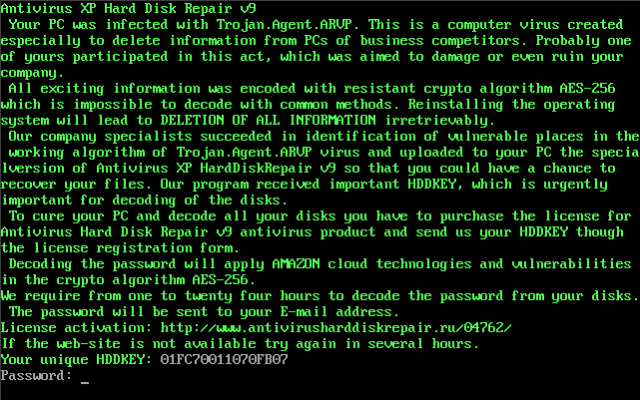 Antivirus XP Hard Disk Repair v9 manual removal
Kill processes
:
temp_sys.exe
Delete registry values:
HKEY_LOCAL_MACHINE\SOFTWARE\Microsoft\Windows NT\CurrentVersion\Winlogon: ?€?Userinit?€™ = ?€?\userinit.exe, %Documents and Settings%\[UserName]\Application Data\temp_sys.exe?€™
Delete files:
temp_sys.exe
---
Comments on Antivirus XP Hard Disk Repair v9
Post a comment
Attention: Use this form only if you have additional information about a parasite, its removal instructions, additional resources or behavior. By clicking "post comment" button you agree not to post any copyrighted, unlawful, harmful, threatening, abusive, harassing, defamatory, vulgar, obscene, profane, hateful, racially, ethnically or otherwise objectionable material of any kind.