What is BestSaveForYou?
BestSaveForYou is a potentially unwanted program (PUP), which can be used for saving the money. In fact, we can't guarantee that you will find the smallest prices with its help because its aim is to promote affiliate parties and help them to increase their popularity. Once BestSaveForYou adware enters the system, it tries to modify required system settings. No, such programs are not capable of posing harm to computers and data that is kept on them. However, they may start causing continuous pop-up notifications, in-text links, banner ads and similar things while people are browsing on the Internet. After clicking any of BestSaveForYou ads you may be tricked into visiting a totally unknown website. Beware that such sites may be used for spreading other adwares, browser hijackers and similar PUPs. In addition, they may even be used for tricking people into revealing their personal information. Finally, we must add that BestSaveForYou adware may start tracking your browsing on the Internet for letting its developer know what are your interests. However, such ability my also reveal what is your PC's IP address, its location, your email address and similar data.
So, if you noticed BestSaveForYou redirects or annoying pop-up ads when using Internet Explorer, Mozilla Firefox or Google Chrome browser, it means that you should check your computer and find this potentially unwanted program. No matter that you can't remember downloading it, it can be hiding in your computer because there are hundreds of freewares and sharewares that have been used for spreading it. No matter that it looks trustworthy, the main thing it seeks is to redirect you to specific websites and increase their advertising revenue or sales. That's why we highly recommend avoiding BestSaveForYou advertisements and uninstalling this program from the system. For that you can use SpyHunter or other reputable anti-spyware.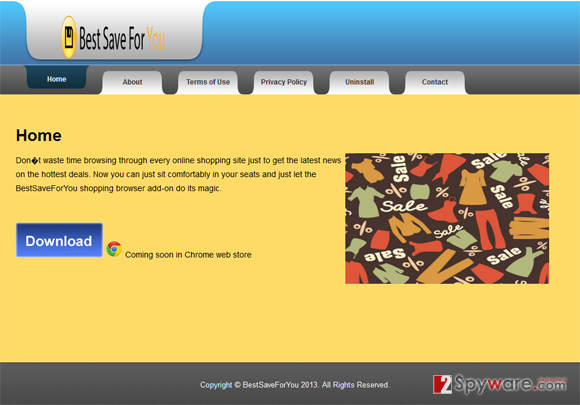 How can BestSaveForYou hijack my computer?
You can download BestSaveForYou on your computer from various download websites. It's available at download.com, cnet.com and similar websites. However, it can also infiltrate the system in a bundle with free downloads without an appropriate permission asked. By default, free programs hardly notify people about the installation of other applications that they are used to spread in a bundle with them. However, you can prevent their installation by choosing a custom or advanced installation method and unchecking the check box that says that you agree to install BestSaveForYou on the system. If you noticed that each of your search sessions ends up with commercial notifications from this program, BestSaveForYou has hijacked your browsers. In this case, you should follow this guide and fix your computer.
How to remove BestSaveForYou ads?
In most of the cases, these ads start interrupting people as soon as BestSaveForYou virus enters the system. You can download it consciously or not. However, no matter which method was used for downloading it to your computer, the removal needs performing the same actions. Please follow a guide below if you want to remove this adware from the system.
You can remove BestSaveForYou extension automatically with a help of one of these programs: SpyHunter, STOPzilla, Malwarebytes Anti Malware. We recommend these applications because they can easily delete potentially unwanted programs and viruses with all their files and registry entries that are related to them.
It might be that we are affiliated with any of our recommended products. Full disclosure can be found in our Agreement of Use.
By downloading any of provided Anti-spyware software to remove BestSaveForYou extension you agree with our
Privacy Policy
and
Agreement of Use
.