CleanUp Antivirus. How to Remove? (Uninstall Guide)
Security Antivirus
and
My Security Wall
malware. This fake program comes from fake online scanners, bogus video sites or malicious PDF files. Once installed, it will simulate a system scan and display a list of infections or system security threats that can't be removed unless you first purchase. However, the truth is that CleanUpAntivirus is a scam. It will prompt you to pay for a full version of the program to remove the infections which don't even exist. It goes without saying that you should remove CleanUp Antivirus from your computer upon detection. Please follow the removal instructions below.
While running, CleanUp Antivirus will flood your computer with fake and very annoying security alerts and pop-ups claiming that your computer is infected with Trojan, worms and other viruses. It may also claim that your computer is under attack by an Internet virus or from a remote computer. Anyway, such false information should be ignored just like the false scan results. What is more, CleanUpAntivirus will block security related websites and disable system security tools such as Task Manager or Regedit. It may block antivirus software too.
As you can see, CleanUp Antivirus is absolutely useless program. If you find that your computer is infected with this bogus program don't delay and remove it upon detection. The removal instructions are provided below. Please use them to remove CleanUp Antivirus from your PC either manually or with an automatic removal tool.
The home page of CleanUp Antivirus is cleanupantivirus.com. Please avoid that site.
CleanUp Antivirus properties
:
• Changes browser settings
• Shows commercial adverts
• Connects itself to the internet
• Stays resident in background
It might be that we are affiliated with any of our recommended products. Full disclosure can be found in our Agreement of Use. By downloading any of provided Anti-spyware software you agree with our
Privacy Policy
and
Agreement of Use
.
Alternate Software
Alternate Software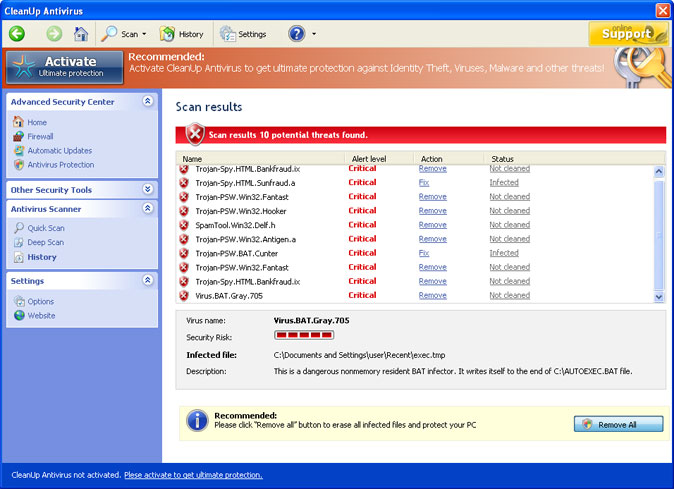 Geolocation of CleanUp Antivirus
Map reveals the prevalence of CleanUp Antivirus. Countries and regions that have been affected the most are: United States.
---
Comments on CleanUp Antivirus
Post a comment
Attention: Use this form only if you have additional information about a parasite, its removal instructions, additional resources or behavior. By clicking "post comment" button you agree not to post any copyrighted, unlawful, harmful, threatening, abusive, harassing, defamatory, vulgar, obscene, profane, hateful, racially, ethnically or otherwise objectionable material of any kind.