Engine-search.biz. How to remove? (Uninstall guide)
Engine-search.biz looks like a typical search website, which can be used to find online information about business. Once you enter this page, you can find a big icon 'Engine Search' and also a search box, which typically claims that it's powered by google. However, instead of giving what it promises, this search engine returns only altered search results and constantly redirects users to those pages that are related to engine-search.biz. That's why it is called 'redirect virus' or 'browser hijacker'. Besides, it has been also noticed to change browser's settings on victim's computer in order to make him/her visit this page instead of others. It is clear that Engine-search.biz works on trying to earn the money from those who need to increase the traffic to their domains. It is clearly related to browser hijackers, so you should immediately check your PC for this threat if you are continuously redirected to Engine-search.biz.
HOW CAN I GET INFECTED WITH Engine-search.biz redirect virus?
This infection can get inside the system through its backdoors. Mostly, it comes on its target PC together with other malicious applications, such as spyware and malware. Once your computer is infected, Engine-search.biz redirect virus alters its homepage settings and also affects all the browsers that are installed on a PC. Now it starts initiating continuous redirections to either Engine-search.biz or other domains. Besides, it may also start showing annoying pop-up ads and secretly record your Internet activity. Please, do NOT ignore such redirections! You have a deal with a serious virus that needs to be eliminated without any delay.
HOW CAN I REMOVE Engine-search.biz redirect virus?
If you are continuously redirected to Engine-search.biz domain or other website, check every step given on this guide: Google redirect: how to remove this virus. Most importantly, scan your computer with anti-malware program and remove browser hijacker and other malicious entries from your computer. Chose one of these softwares: Plumbytes Anti-MalwareWebroot SecureAnywhere AntiVirus, Reimage, Malwarebytes Anti Malware.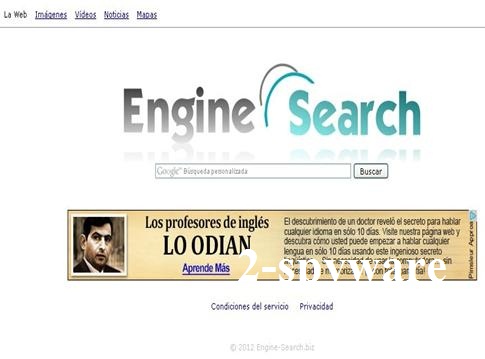 About the author