Fassurun ads. How to Remove? (Uninstall Guide)
Can I use fassurun for my searches?
Fassurun is promoted as a useful browser add-on that can be used for improving people's searches. However, the main thing that they notice after installing this app on their computers is ads and links in their search results. For the first sight, you may find them useful. After some time, they may become annoying because they may be displayed on almost every website that you decide to visit. However, such annoying activity is not the main issue. The main problem that you should take into account is that these Fassurun ads may redirect you to potentially dangerous websites seeking to increase their popularity and sales. We should add that purchasing on such sites can be dangerous because you may reveal your personal information to strangers. To prevent redirects to websites that you don't even know, you need to remove Fassurun from your computer.
The other thing that bothers use when discussing this potentially unwanted program is its ability to track its users. Typically, such programs collect information related to people's search terms, browsing habits and so on. However, they can also collect information related to your email address, computer's location, and its IP address. Would you like to reveal this data to unknown parties? We don't think so. To prevent the loss of such information, you should always read the Privacy Policy and End User's License Agreement before installing unknown software on your computer. Also, make sure that you stay away from programs that are interested in your non-personally identifiable information because you can never know who can reach it. If this program has appeared on your computer without downloading it (it can do that with the help of bundling), you should waste no time and remove Fassurun virus. The easiest way to do that is to scan your PC with SpyHunter.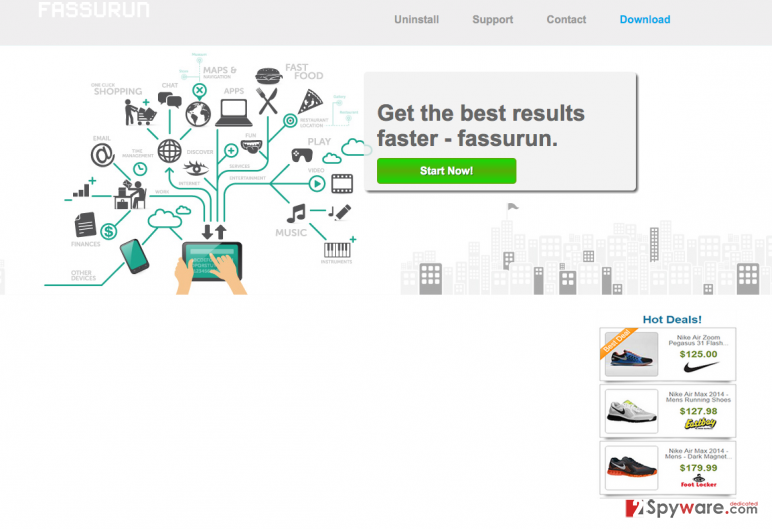 How does Fassurun spread around?
Fassurun is available at various download websites. However, we do not recommend downloading it because of its unwanted activity on the system. Also, we should warn you that it can also get on your PC system in a bundle with free downloads. This distribution method has initiated various discussions because people are hardly warned that instead of one program they will install two or more. If you have just noticed such thing as "Fassurun hijack", you should think what free software have you just installed on your computer. To prevent this, you need to select Custom or Advanced installation of the freeware and uncheck check marks saying that you want to add this extension to each of your web browsers. If you are dealing with Fassurun redirect and other issues, you can probably agree that it doesn't add any significant value to your browsing. In fact, this program complicates it because it interrupts people each time they enter Google, Facebook, Youtube and other popular websites. To fix your computer, you should follow the guide, which is given in the next page of this post, and remove Fassurun.
It might be that we are affiliated with any of our recommended products. Full disclosure can be found in our Agreement of Use. By downloading any of provided Anti-spyware software you agree with our
Privacy Policy
and
Agreement of Use
.
Alternate Software
Alternate Software
We are testing Malwarebytes Anti Malware's efficiency (2016-01-20 08:35)
---