Hard Drive Diagnostic. How to Remove? (Uninstall Guide)
Hard Drive Diagnostic is a fake program imitating system optimization tool. It belongs to the same family of fake defragmenters as HDD Scan, Ultra Defragger, HDD Control, Scan Disk, Win Defrag. The program infiltrates with a help of Trojan viruses without users knowledge.

Hard Drive Diagnostic pretends checking the system for any errors. Then the program claims to detect some concerning your hard drive or RAM memory. According to Hard Drive Diagnostics, these errors can be fixed with a help of a full version of its program. You are simply asked to make a payment for a license of Hard Drive Diagnostic and all your problems are said to be solved.

However, once you pay, you will only lose your money. Hard Drive Diagnostics is not a program to trust. Here are some warning messages that will help you to recognize if Hard Drive Diagnostic is on your system:



Requested registry access is not allowed. Registry defragmentation required
Read time of hard drive clusters less than 500 ms
32% of HDD space is unreadable
Bad sectors on hard drive or damaged file allocation table
GPU RAM temperature is critically high. Urgent RAM memory optimization is required to prevent system crash
Drive C initializing error
Ram Temperature is 83 C. Optimization is required for normal operation.
Hard drive doesn't respond to system commands
Data Safety Problem. System integrity is at risk.
Registry Error – Critical Error

Critical Error
A critical error has occurred while indexing data stored on hard drive. System restart required.

Fix Disk
Windows Disk Diagnostics will scan the system to identify performance problems.
Start or Cancel

Windows Disk Diagnostics
Windows detected a hard disk error.
A problem with the hard drive sectors has been detected. It is recommended to download the following sertified ásoftware to fix the detected hard drive problems. Do you want to download recommended software?

The system has been restored after a critical error. Data integrity and hard drive integrity verification required.

Bad Sectors on hard drive or damaged file allocation table – Critical Error


If you have noticed any of such alerts on your system, make sure to ignore them as they do not represent real situation of your computer. You must get rid of Hard Drive Diagnostic as soon as you detect this badware on your system.

NOTE!
Here's a registration code of this malware: 0973467457475070215340537432225
Use it to disable Hard Drive Diagnostic. Additionally, run a full system scan with Spyware Doctor, malwarebytes or automatic removal tool from this website.
The latest parasite names used by FakeHDD:
S.M.A.R.T. Repair, File Rescue virus, File Restore virus, File Recovery, Smart Data Recovery
Hard Drive Diagnostic properties
:
• Shows commercial adverts
• Hides from the user
• Stays resident in background
It might be that we are affiliated with any of our recommended products. Full disclosure can be found in our Agreement of Use. By downloading any of provided Anti-spyware software you agree with our
Privacy Policy
and
Agreement of Use
.
Alternate Software
Alternate Software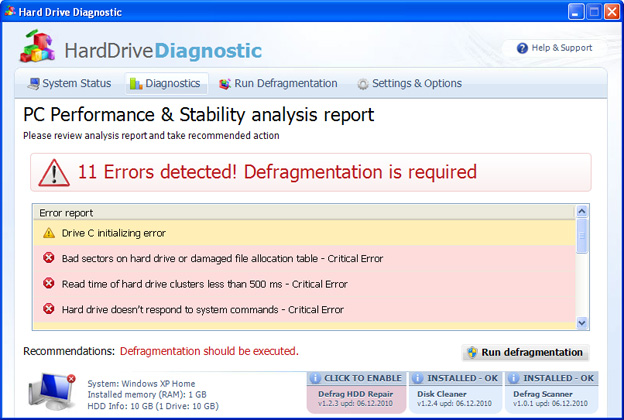 Hard Drive Diagnostic manual removal
Kill processes
:
%Temp%[random].exe
Unregister DLLs:
%Temp%[random].dll
Delete files:
%Temp%[random]
%Temp%[random].exe
%Temp%[random].dll
%Temp%dfrg
%Temp%dfrgr
%Documents and Settings%[User_Name]DesktopHDD Scan.lnk
%Documents and Settings%[User_Name]Start MenuProgramsHDD Scan
%Documents and Settings%[User_Name]Start MenuProgramsHDD ScanHDD Scan.lnk
%Documents and Settings%[User_Name]Start MenuProgramsWin DefragmenterUninstall HDD Scan.lnk
Geolocation of Hard Drive Diagnostic
Map reveals the prevalence of Hard Drive Diagnostic. Countries and regions that have been affected the most are: United States, Canada, Australia and United Kingdom.
---
Comments on Hard Drive Diagnostic
Post a comment
Attention: Use this form only if you have additional information about a parasite, its removal instructions, additional resources or behavior. By clicking "post comment" button you agree not to post any copyrighted, unlawful, harmful, threatening, abusive, harassing, defamatory, vulgar, obscene, profane, hateful, racially, ethnically or otherwise objectionable material of any kind.