Instant Savings
| Type:
Adware
Instant Savings is a potentially unwanted program, adware, which can easily come inside the system in one pack with other programs. Mostly, these programs are various applications that are offered on the Internet for free. While this toolbar may firstly look like a useful tool, it may become a completely annoying application after some time. That's because of its continuous pop-up notifications and advertisements that keep reporting about various commercial offers, coupons and deals. Besides, it tends to settle down on every Internet browser it finds installed and track its user in order to share this information with third parties. We can't disagree, those who are obsessed with shopping online won't find any problem with Instant Savings. However, if you haven't installed this app by yourself, you should remove Instant Savings from the system.
HOW CAN I GET Instant Savings on my PC?
As we have said, Instant Savings can be installed by two methods. The first one is when you install it manually from its official site. Another method is getting this app without any permission asked in a bundle with other programs. Mostly, people find unwanted programs after downloading freeware or shareware, and not paying enough attention to their installation windows and what's written on them. Once inside, Instant Savings shows up on all Internet browsers, like Internet Explorer, Google Chrome and Mozilla FireFox, and starts popping up with its alerts. Please, pay attention that Instant Saving may track your browsing habits, including information about social media websites and similar. You shouldn't leave this program if you haven't installed it by yourself.
HOW TO REMOVE INstant Savings?
If you want to remove Instant Savings App, you can find it in the Add/Remove Programs list. Besides, you should also remove all unfamiliar browser extensions from there. We also recommend scanning your computer with anti-malware program, SpyHunter in this case, in order to remove Instant Savings App and any other unwanted application automatically.
Automatic Instant Savings removal:
It might be that we are affiliated with any of our recommended products. Full disclosure can be found in our Agreement of Use.
By downloading any of provided Anti-spyware software to remove Instant Savings you agree with our
Privacy Policy
and
Agreement of Use
.
Alternate Software
Virus Removal Phone Support
Instant Savings screenshot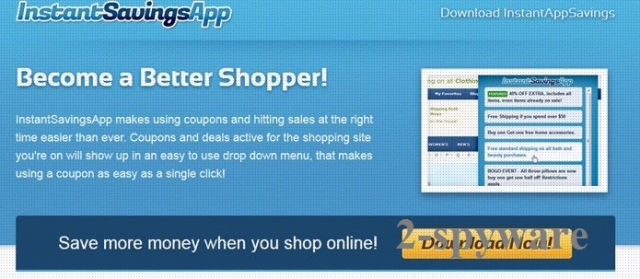 Geolocation of Instant Savings
This map reveals the prevalence of Instant Savings. Countries and regions that have been affected the most are: United Kingdom and United States.
QR code for Instant Savings removal instructions

QR is short for Quick Response. They can be read quickly by the mobile phones. QR codes can store more data than standard barcodes, including url links, geo coordinates, and text.
The reason we add QR code to the website is that parasites like Instant Savings are really hard to remove on infected computer. you can quicly scan the QR code with your mobile device and have manual removal instructions to uninstall Instant Savings right in your pocket.
Simply use the QR scanner and read removal instructions from mobile device.
Information added: 2013-03-02 08:00
Information updated: 2013-03-02 08:00

Additional resources
Attention:
If you know know a reputable website reated to security threats, please add a link here:
add url