what is Planet49.com.au?
Planet49.com.au is a program, which was added to 'adware' category. No matter that it looks safe and useful (it promises for its users to help them improve their browsing routine and also help them to save the money by showing 'useful' coupons) you should keep in mind that this program has been used for suspicious and very questionable activities. When inside and active, this program may try to hijack each of your web browsers and then may start showing annoying pop-up ads during your browsing. However, that's not the worst thing when discussing about this program. Beware that it may also cause Planet49.com.au redirects to unknown sites that are trying to increase their popularity. Beware that there is no guarantee that each of these websites is harmless! In the worst case scenario, you may be redirected to a really questionable site that is used for spreading other hijackers and even viruses. So, if you have just installed Planet49.com.au add-on on your computer thinking that it can be used to show information about various coupons and offers during your browsing, you should stop doing so. In fact, you should waste no time and remove this adware from the system because it seems that it can also try to track your browsing on the web. Typically, it may collect your search terms, mostly visited websites, data that you enter when visiting them, etc.
Please, do NOT fall believing that Planet49.com.au ads can help you to save some money. All what they seek is to promote affiliate websites by showing predetermined links in them. That's why you should be very careful with each of planet49.com.au notifications. If they have started interrupting you in a form of pop-ups or as in-text ads on every site you enter while you are browsing the web, you should use a guide below and get rid of this program. Besides, if you want to make sure that your PC is free of related components and other questionable applications, you should scan your computer with the updated anti-spyware. For that you can use: SpyHunter (compatible with Windows OS) or Webroot SecureAnywhere AntiVirus (compatible with Windows and Mac OS X).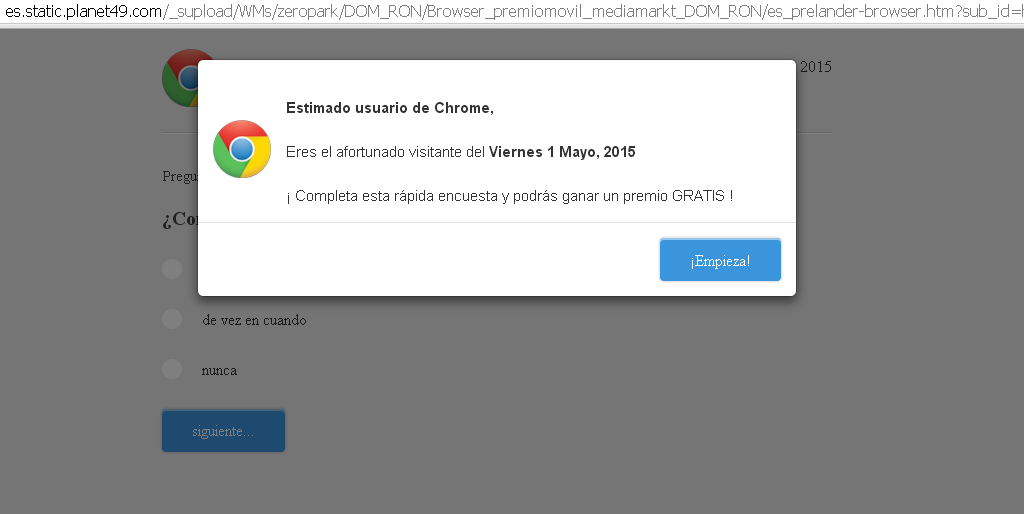 HOW CAN Planet49.com.au hijack my computer?
All this activity starts when planet49.com.au gets inside the system. Mostly, it is downloaded in a bundle with other software, like freeware and shareware. So, you should always be attentive when installing something on your computer during the whole installation process. Once it is installed, Planet49.com.au may initiate some changes on the system, like hijack all your web browsers, change the homepage and always show up when trying to browse the web. Be aware that such programs may be used to track users' browsing habits and store information about the web pages you visit.
HOW to remove Planet49.com.au?
As a rule, such programs are really aggressive and can't be removed easily. That's because they change their name and it becomes very difficult to find them. In order to stop Planet49.com.au ads, redirects and other issues, you should use this guide:
You can remove Planet49.com.au automatically with a help of one of these programs: SpyHunter, STOPzilla, Malwarebytes Anti Malware. We recommend these applications because they can easily delete potentially unwanted programs and viruses with all their files and registry entries that are related to them.
It might be that we are affiliated with any of our recommended products. Full disclosure can be found in our Agreement of Use.
By downloading any of provided Anti-spyware software to remove Planet49.com.au you agree with our
Privacy Policy
and
Agreement of Use
.