What is Plus HD?
Plus HD is a legitimate application, which promises to improve the quality of Youtube videos. So, there is no doubt that there are hundreds of people who have already downloaded this program to their computers. However, some part of them has already started various discussions on the Internet about the trustworthiness of Plus HD. That's because this program may also try to hijack each of web browsers and then may start showing various pop-up ads during your browsing. Thats why it has been labeled as a potentially unwanted program and an adware. No matter how trustworthy it looks, you have to understand that each of Plus HD ads seeks to redirect you to its affiliate website and help this site to increase the page rank and sales. Besides, after installing Plus HD adware on the system and letting it to hijack all web browsers (Internet Explorer, Google Chrome, Mozilla Firefox, Safari and others), you may also start suffering from continuous Plus HD redirects to its affiliate websites. Such browsing on the Internet can be really risky because you can never know what website you can be redirected to. Finally, you should know that this application it may enter your computer in a bundle with other downloads without a clear permission asked. That's why it may look like it infiltrated your computer like a virus. However, in most of the cases, Plus HD comes bundled with other free applications, such as Sweetpacks Toolbar and similar programs.
If you don't want to lead your computer to such issues as Plus HD redirects, slow downs, pop-up ads, etc., you should try to avoid adware-type programs. As we have mentioned, they may try to hide in other freeware for getting ability to infiltrate the system without a clear permission asked. If Plus DH virus has already entered it, you can remove it with a help of these programs: SpyHunter (compatible with Windows OS) or Webroot SecureAnywhere AntiVirus (compatible with Windows and Mac OS X).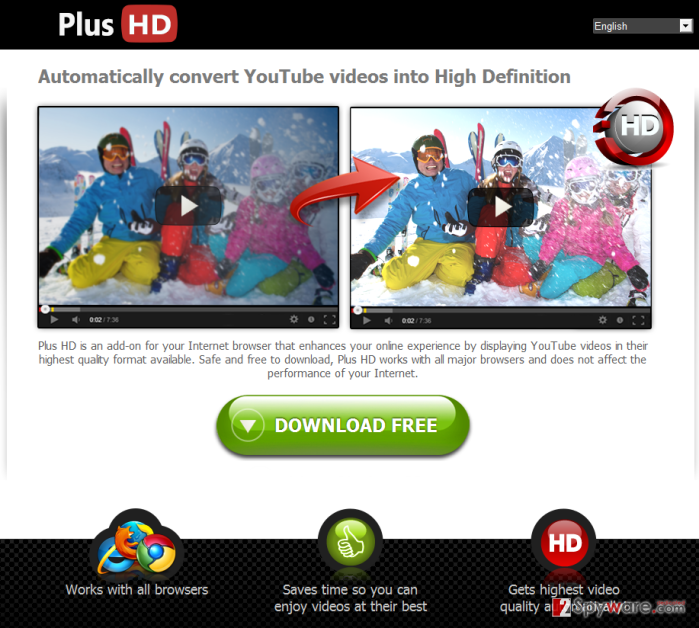 How can Plus HD hijack my computer?
Plus HD can be downloaded from various websites as a valuable program that is capable of improving one's browsing on the Internet. However, in most of the cases it enters computers in a bundle with other programs as a free addition. In order to avoid Plus HD and other adwares, browser hijackers and other PUPs, you should always choose a Custom or Advanced installation and try to pay more attention to this process. This adware works on all web browsers, including Internet Explorer, Mozilla Firefox, and Google Chrome, so it's really hard to avoid its ads that mostly promote third party products or services. In order to do that, you should uninstall Plus HD from your computer.
How to remove Plus HD virus?
If you see Plus HD ads, that typically say 'Ads by Plus HD', 'Powered by Plus HD' and similar, it means that this program is installed on your computer. In order to get rid of them, follow this guide:
It might be that we are affiliated with any of our recommended products. Full disclosure can be found in our Agreement of Use.
By downloading any of provided Anti-spyware software to remove Plus HD you agree with our
Privacy Policy
and
Agreement of Use
.