Politiet Kongeriget Danmark Virus. How to Remove? (Uninstall Guide)
Politiet Kongeriget Danmark virus is a cyber infection, which can be used for the only thing - to steal the money from users by convincing them, that they have to pay a fine. Of course, before showing such message, this virus, which actually belongs to the category of ransomwares, locks the whole system down and disables all computer's functions. As soon as it does that, it replaces PC's desktop with alert that seems to belong to Danish Police and lists various crimes, such as downloading copyrighted material, distributing material related to child pornography and similar. However, taking this messgae seriously is the same as sharing your money with scammers because at the end of it you will find a requirement to pay the fine. Please, never pay this fine. Politiet Kongeriget Danmark Virus is nothing but a huge scam, which is based on trojan virus that holds your PC a hostage. You must ignore this alert and remove Politiet Kongeriget Danmark Virus.
HOW CAN I GET INFECTED WITH Politiet Kongeriget Danmark virus?
Politiet Kongeriget Danmark Virus is distributed just like Politiet Norge Ukash Virus, Politiet Norsk Politi Institutt for Cybercrime virus and other similar viruses. That means that it can be downloaded after clicking on malicious link, visiting infected website or simply opening spam email. Besides, freeware, shareware, various software updates or other files that were hacked can also be used for spreading such viruses. Once it gets inside, it uses the same scare tactics, which has been used by other Ukash Group infections, and block the whole system with its fake alert:
OBS! PC'en er blokeret i mindst en af følgende grunde.
Du har set eller distribueret ulovligt pornografisk indhold (børneporno/Zoofili og osv.). Det krænker §202 af Dansk strafferet.
(...)
Bøderne kan kun dubetales i de første 72 timer efter lovovertrædelsen. Når de 72 timer er udløbet, evnen til at betale bøden og en straffesag, provenu udbetalt til dig automatisk inden for de næste 72 timer!

Bød beløbet er DKK 1000 eller €100.
Bøden skal betales ved PaySafeCard eller Ukash.
Please, ignore this alert because it has nothing to do with a real police. Besides, such institutions have never been using such primitive methods to collect their fines. You must ignore this alert and remove Politiet Kongeriget Danmark Virus from the system.
HOW CAN I REMOVE Politiet Kongeriget Danmark Virus?
When trying to remove any member of Ukash virus group, be prepared for some hard work hours because the first thing you will have to do is to unblock your computer and recover your internet connection. For that, follow these tips:
* Flash drive method:
1. Take another machine and use it to download Reimage or other reputable anti-malware program.
2. Update the program and put into the USB drive or simple CD.
3. In the meanwhile, reboot your infected machine to Safe Mode with command prompt and stick USB drive in it.
4. Reboot computer infected with Ukash virus once more and run a full system scan.
* Users infected with Ukash viruses are allowed to access other accounts on their Windows systems. If one of such accounts has administrator rights, you should be capable to launch anti-malware program.
* Try to deny the Flash to make your ransomware stop function as intended. In order to disable the Flash, go to Macromedia support and select 'Deny': http://www.macromedia.com/support/documentation/en/flashplayer/help/help09.html. After doing that, run a full system scan with anti-malware program.
* Manual Ukash virus removal (special skills needed!):
Reboot you infected PC to 'Safe mode with command prompt' to disable Ukash virus (this should be working with all versions of this threat)
Run Regedit
Search for WinLogon Entries and write down all the files that are not explorer.exe or blank. Replace them with explorer.exe.
Search the registry for these files you have written down and delete the registry keys referencing the files.
Reboot and run a full system scan with updated PlumbytesWebroot SecureAnywhere AntiVirus or Reimage to remove remaining virus files.
It might be that we are affiliated with any of our recommended products. Full disclosure can be found in our Agreement of Use. By downloading any of provided Anti-spyware software you agree with our
Privacy Policy
and
Agreement of Use
.
Alternate Software
Alternate Software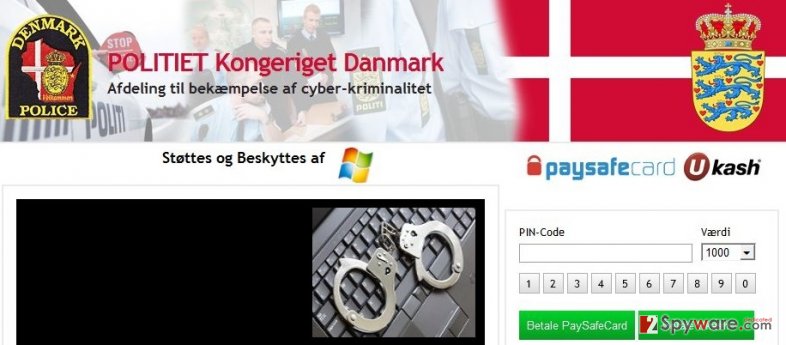 Politiet Kongeriget Danmark Virus manual removal
Kill processes
:
[random].exe
Delete files:
[random].exe
Geolocation of Politiet Kongeriget Danmark Virus
Map reveals the prevalence of Politiet Kongeriget Danmark Virus. Countries and regions that have been affected the most are: Netherlands, Belgium, Denmark, United Kingdom and Portugal.
---
Comments on Politiet Kongeriget Danmark Virus
Post a comment
Attention: Use this form only if you have additional information about a parasite, its removal instructions, additional resources or behavior. By clicking "post comment" button you agree not to post any copyrighted, unlawful, harmful, threatening, abusive, harassing, defamatory, vulgar, obscene, profane, hateful, racially, ethnically or otherwise objectionable material of any kind.