ProtectedSearch.com virus. How to remove? (Uninstall guide)
ProtectedSearch.com virus is a browser hijacker, which changes computer's settings in order to redirect its owner to protectedsearch.com or other search page. In reality, all results that are given by such search engines are forged and are different from the ones that are displayed by Google or Yahoo. That's because of a simple reason – protectedsearch.com virus begins its activity with tracking user's browsing habits and additionally displays relevant search results for him. In most of the cases, these websites offer commercial deals or simply show spammy content for their victims. Although redirections are not related to malware, they may be a sign that your PC is infected with the browser hijacker. We recommend scanning your PC with updated anti-malware and changing your computer's settings back to normal if you suffer from ProtectedSearch.com virus redirections. You need to remove this browser hijacker.
HOW CAN I GET INFECTED WITH ProtectedSearch.com virus?
As we have mentioned, people start suffering from redirections to ProtectedSearch.com once they get infected with the browser hijacker. This intrussion becomes clear when all kinds of browsers, including Internet Explorer, Google Chrome and Mozilla Firefox, start redirecting people to unwanted domains. Basically, user is redirected every time he starts searching the web but there are more unwanted activities that are caused by ProtectedSearch.com virus: you can also find that virus has altered your homepage/search engine/bookmark list and similar settings, and may even install unwanted toolbar. Please, don't ignore such viruses because they may redirect you to malicious websites as well! You must remove ProtectedSearch.com virus from your computer ASAP.
HOW TO REMOVE ProtectedSearch.com virus?
In order to remove ProtectedSearch.com virus from your computer, you should scan it with anti-malware program and remove browser hijacker from the system. We recommend using Plumbytes Anti-MalwareWebroot SecureAnywhere AntiVirus or Reimage for that. If you are still redirected, check these settings on your PC.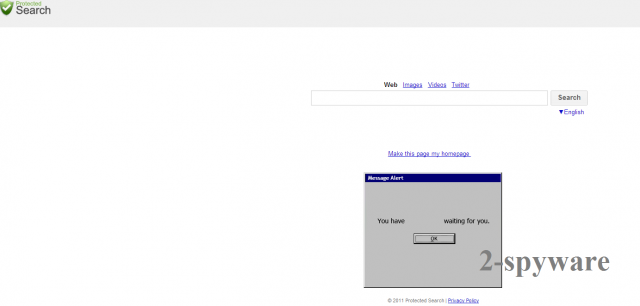 About the author