Reimage Express. How to remove? (Uninstall guide)
What do I need to learn about Reimage Express? Can I trust this program?
Reimage Express is NOT a virus and you can trust it. It is PC repair software[1], which can be used for fixing errors, eliminating virus damage[2], and improving its functionality. We assume that you must have already heard of the full version of this program called Reimage. Reimage Express is just a free version released to help people with basic issues. However, if you want to maintain your PC in a proper way, you should select Reimage Repair.
We have seen various opinions regarding this program. We think that we all did. Here, we will try to explain what is this program and what to expect from it.
In the past, Reimage Express had been classified as a PUP[3] because sometimes people used to install it in a bundle with other programs. Although it does have the official page, it can also be installed as optional component. Those who don't monitor installation of the free software cannot recall installing this tool. However, it is not Reimage to blame – it simply advertises itself next to other programs and it is a useful program, and users who do not like it always have the option to uninstall it. What is more, Reimage is no longer classified as PUP.
This repair tool can work as a proper software. It has been tested and results have shown that it is a reliable software that can help users fix the database of their registries, bad files and similar issues. Because of Avira Antivir technology, Reimage Express can help people remove malicious files and viruses, which, we believe, is an extremely useful feature.
Once installed, Reimage Express performs system scan and delivers alerts about the state of your computer. It may warn you about tens or even hundreds of system failures/errors that are important for your PC's functionality[4].
If you delete all the reported issues, your PC's performance will be improved.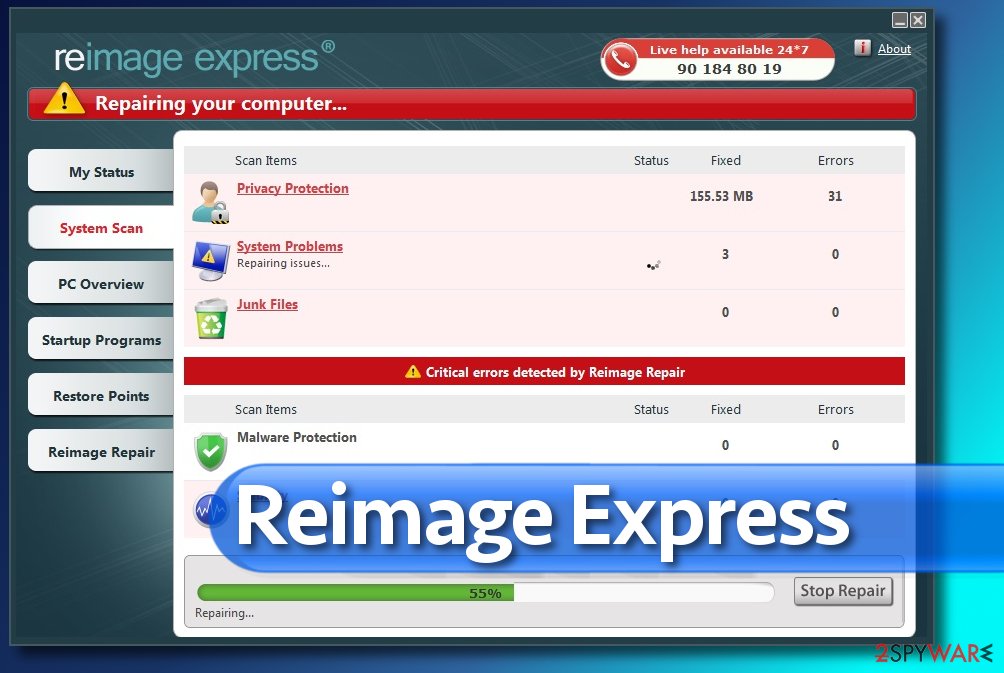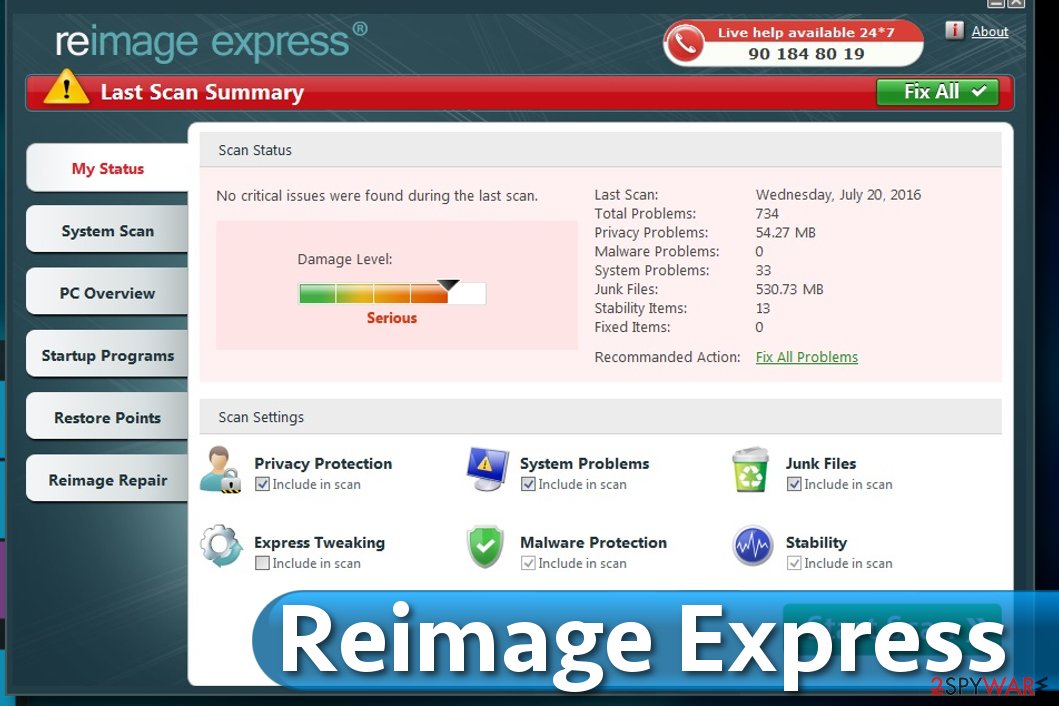 Slide 1 of 2
Then you may ask, so what is the purpose of Reimage Express?
Reimage Express scans computers and delivers scan results having one simple purpose – to help PC users improve their computers' functionality. Beware that you may need to purchase its licensed version to get a full functionality of Reimage. As already noted, once installed it initiates the first system scan. Be aware that those scans may cause slow downs on your computer, but it is a normal thing when discussing full system scan. If you are willing to restore your PC and make it run properly, you should think about buying a full version of Reimage Express because it can fix all system errors. Some time ago, malware analysts used to warn PC users that the full version of this tool may remove the wrong files, but this is not true. The latest data shows that Reimage fixes problems efficiently and precisely. If you already have Reimageexpressnu.exe file on your computer, you might want to consider purchasing Reimage Express as it is a reliable optimization tool that can improve your computer's performance.
How can this repair tool appear on my PC?
Reimage Express is promoted on the official website that allows downloading a trial version of a tool for free or downloading a full version for a certain amount of money. However, if you haven't installed this app with a purpose, it means that it has been downloaded onto your PC together with another free program. As we have mentioned already, it can be promoted via software bundles[5] that can be found on pages like Softonic, Soft32, Cnet, and similar file sharing websites. This distribution technique is legitimate, but if you want to prevent Reimage Express hijack, you can do something. Firstly, you have to pay an appropriate amount of attention to the installation process of each freeware. Make sure that you always check either Advanced or Custom installation option is selected and disagree with the installation of 'optional downloads.' If you want to find out how to download Reimage Express or how to remove it, you should read the guide below.
Reimage Express FAQ
Question: Once my PC's system is fully loaded, I see that one program performs a system scan and then it says: "Reimage Express found 137 problems on your PC. You can fix these errors using Reimage Express." I'm confused because I don't know what kind of program it is. Could it be a virus because I did not install such program? If it's a virus, please explain how to remove Reimage Express. Thanks in advance.
Answer: Reimage Express is a fully legitimate program that provides computer optimization and malware removal functions. The program is really useful; however, some computer users have doubts about it due to its annoying marketing techniques. However, despite that, it is a useful tool that slowly builds its reputation and earns computer users' trust. In our opinion, it is an exceptionally useful tool that combines functionalities of two separate programs.
How to remove this application?
In reality, "Reimage Express virus" is NOT a virus, so it can be removed manually. This can be done by performing these steps:
Click 'Start menu' → 'Control Panel' → 'Uninstall a Program' or 'Add/Remove Programs.'
Find Reimage Express, right-click on it and select 'Uninstall.'
However, you can also think about updating this program to its "full" version to get an ability to check your computer for bad registry files, malware, potentially unwanted programs and similar components.
About the author
References
Removal guides in other languages