Search.Easylifeapp.com redirect. How to Remove? (Uninstall Guide)
Reasons to avoid Search.Easylifeapp.com:
Search.Easylifeapp.com virus, brought by Web-Pick is a potentially unwanted program which you should delete from your computer immediately, if you see it running any processes on it. The program is advertised rather obscurely. The program decryption is rather obscure:
Instead of having to spend time searching for all of your favorite sites, the EasyLife App has all of the best tools and information in one easy to use, convenient, and fun desktop gadget.
It is not clear what this program is really for and what tools does it actually provide. Nevertheless, the user is encouraged to download it and enhance the Internet browsing experience. After a closer investigation of the Search.Easylifeapp.com website, our experts have noticed several concerning details in the Privacy Statement of this program. For instance, the Web-Pick claims to collect both Personally Identifiable Information (PII) and NPII Non-Personally Identifiable Information. As many of legitimate websites collect NPII to provide the users with better service, collecting PII is not common and may even result in privacy violation. Citing the Search.Easylifeapp.com site itself, PII may include "among other, Your name, title, address, email." It can be presumed that this application does not limit itself to the collection of the mentioned details and can target other sensitive data as well. What is more, the software creators do not take any responsibility for the security of this information, so using this program may easily result in data or financial loss or even identity theft. Therefore, it is recommended to remove Search.Easylifeapp.com from the computer as soon as possible. We suggest eliminating it with some reputable antivirus tools, such as SpyHunter.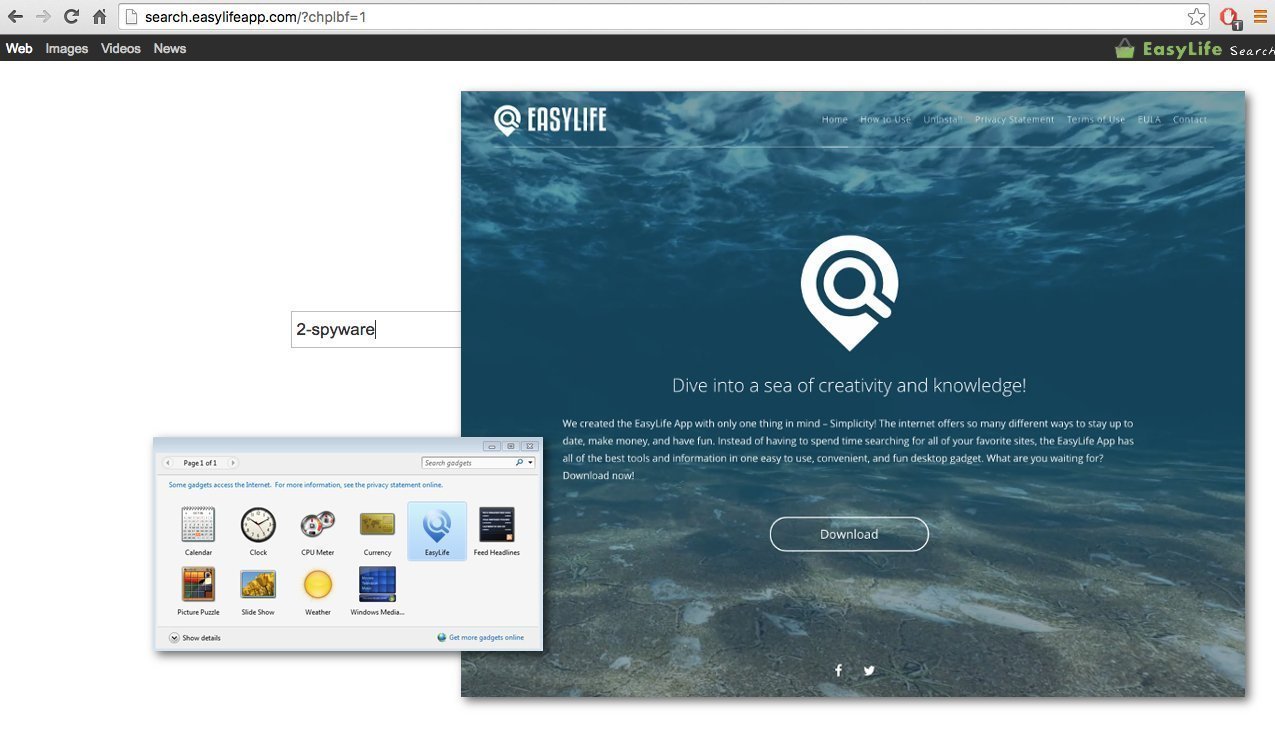 Unfortunately, the data gathering is not the only consequence of the Search.Easylifeapp.com hijack. Browsing the web may also become unbearable if you decide to continue using this search engine willingly. Among the most commonly encountered problems is the Search.Easylifeapp.com redirect issue. While it may seem that you have entered a site accidentally, in reality, you have been redirected to it by the EasyLifeApp malware. In fact, such search websites are usually promoted using this particular technique. However, the main reason why you should avoid searching on Search.Easylifeapp.com or similar domain is the fact that its owners tend to display forged search results for them. So, you must be aware that such redirects are serious problems, which must never be ignored. Once you start suffering from them, obtain a reputable anti-malware which will scan your computer and take care of the Search.Easylifeapp.com removal automatically.
How can you get infected with this hijacker?
Most frequently, such viruses come along with fake software updates, various freeware, spam emails and other potentially malicious downloads. Once Search.Easylifeapp.com settles in, it starts changing search results in all the search engines. So, no matter which search engine you use, Google, Bing or Yahoo, the virus will continuously redirect you back to Search.Easylifeapp.com. To avoid such infiltration, you should be careful while browsing online. Do not click on suspicious ads or download buttons as they might lead you straight to the virus download. Also, it is important to obtain a reliable antivirus system which will eliminate the threats on your computer as well as provide you will need protection while browsing online in real time.
It might be that we are affiliated with any of our recommended products. Full disclosure can be found in our Agreement of Use. By downloading any of provided Anti-spyware software you agree with our
Privacy Policy
and
Agreement of Use
.
Alternate Software
Alternate Software
We are testing Malwarebytes Anti Malware's efficiency (2016-05-16 03:53)
---