Search.rpidity.com. How to remove? (Uninstall guide)
Search.rpidity.com is a search page, which somehow relies on a browser hijacker that may have already annoyed you to death with its constant redirections to unwanted domains. As soon as it gets inside the PC, it hacks the browser up (it is capable to hijack it either it is IE, Google chrome or Mozilla Firefox) and starts redirecting victims to domains that have nothing to do with the ones they are trying to reach. While you may have thought that you have a deal with legitimate website, we highly recommend avoiding Search.rpidity.com because of its nature – it may lead you to the pages that are used to spread other unwanted programs or even malware. Search.rpidity.com has also been reported to appear as a homepage and start its redirections as soon as you click on its search results. Besides, some users claim that pop-up ads are also related to this browser hijacker, so as soon as you find yourself redirected to Search.rpidity.com, you should check your PC with legitimate anti-malware program and remove cyber threats that are inside.
HOW CAN I GET INFECTED WITH Search.rpidity.com browser hijacker?
Even though you have the latest version of anti-virus program, you may get infected with Search.rpidity.com virus. That's because it uses freeware or shareware to get inside undetected and additionally start its own activity on victim's PC. Once inside, user finds himself on the pages that have nothing to do with his search query. Search.rpidity.com also appears on the front of the desktop and may be connected with the pop-up advertisements and alerts showing up out of nowhere. Note that this browser hijacker may also be used to track your browsing activity and give this information for marketing companies.
HOW CAN I REMOVE Search.rpidity.com virus?
Slow work of your computer and constant redirections to Search.rpidity.com domain are the signs that you are dangerously infected with browser hijacker. To remove this cyber threat, run a full system scan with reputable anti-malware program, such as Reimage or Malwarebytes Anti Malware.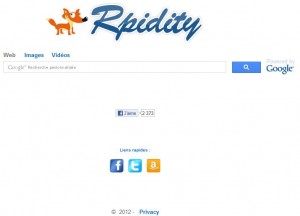 About the author
Removal guides in other languages