Secure Fighter. How to Remove? (Uninstall Guide)
Security Fighter
,
Secure Veteran
and
Security Soldier
. It is installed secretly through the use of Trojan viruses. Very often, Secure Fighter is promoted via fake online anti-spyware scanners and misleading websites that supposedly provide free online videos. The main goal of this infection is to trick you into purchasing the program. However, do not pay for this bogus software and uninstall Secure Fighter from your computer as soon as possible.
Once installed, Secure Fighter will create many harmless files with random names and will later detect those files as serious infections or system security threats. It will be configured to scan your computer each time you log on into Windows. However, the program only imitates real scan and reports non-existing infections. It will then prompt you to pay for a full version of the program to remove those infections. Please not that so-called full version doesn't even exist. Furthermore, the misleading application will display fake security alerts and system notificaions about dangerous infections and possible attacks. Some of the fake alerts you will see:
"Spyware Alert!
Your computer is infected with spyware. It could damage your critical files or expose your private data on the Internet. Click here to register your copy of SecureFighter and remove spyware threats from your PC."
To make things worse, this program will block anti-virus software and security related websites. It will also hijack web browsers and constantly display fake notifications about insecure connection and possible security threats. As you can see, Secure Fighter is nothing more but a scam. Please use the removal instructions below to remove SecureFighter from your computer manually for free. Related files:
1118zhack5o9l33d.dll
,
Uninstall.exe
Secure Fighter properties
:
• Changes browser settings
• Shows commercial adverts
• Stays resident in background
It might be that we are affiliated with any of our recommended products. Full disclosure can be found in our Agreement of Use. By downloading any of provided Anti-spyware software you agree with our
Privacy Policy
and
Agreement of Use
.
Alternate Software
Alternate Software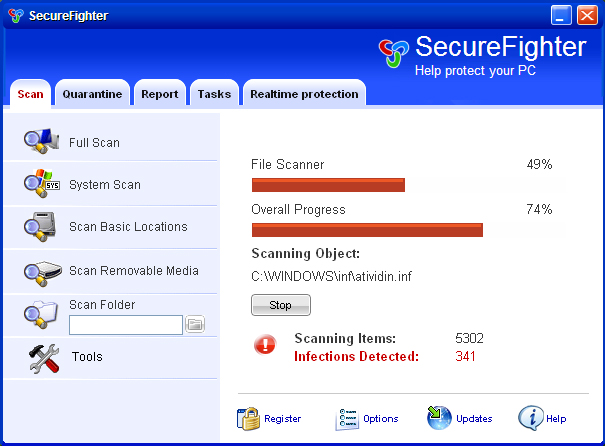 Secure Fighter manual removal
Kill processes
:
SecureFighter.exe
uninstall.exe
10093noz-5-virus2cd.exe
27599virus2bz.exe
Delete registry values:
HKEY_CURRENT_USER\Software\SecureFighter
HKEY_LOCAL_MACHINE\SOFTWARE\Microsoft\Windows\CurrentVersion\Uninstall\SecureFighter
HKEY_LOCAL_MACHINE\SOFTWARE\SecureFighter
HKEY_LOCAL_MACHINE\SYSTEM\CurrentControlSet\Enum\Root\LEGACY_SECUREFIGHTERSVC
HKEY_LOCAL_MACHINE\SYSTEM\CurrentControlSet\Services\SecureFighterSvc
HKEY_CURRENT_USER\Software\Microsoft\Windows\CurrentVersion\Run "jwh2.tmp"
HKEY_CURRENT_USER\Software\Microsoft\Windows\CurrentVersion\Run "SecureFighter"
Unregister DLLs:
1118zhack5o9l33d.dll
Delete files:
SecureFighter.exe
uninstall.exe
SecureFighter.lnk
1 SecureFighter.lnk
2 Homepage.lnk
3 Uninstall.lnk
jwh2.tmp
10093noz-5-virus2cd.exe
10593wormz045.ocx
1118zhack5o9l33d.dll
27599virus2bz.exe
277fvir16z95.ocx
279715acztool512.bin
Delete directories:
c:\Documents and Settings\All Users\Start Menu\Programs\SecureFighter
c:\Program Files\SecureFighter Software
c:\Program Files\SecureFighter Software\SecureFighter
---
Comments on Secure Fighter
Post a comment
Attention: Use this form only if you have additional information about a parasite, its removal instructions, additional resources or behavior. By clicking "post comment" button you agree not to post any copyrighted, unlawful, harmful, threatening, abusive, harassing, defamatory, vulgar, obscene, profane, hateful, racially, ethnically or otherwise objectionable material of any kind.