Shopping Chip. How to remove? (Uninstall guide)
What is Shopping Chip?
Shopping Chip is a legitimate browser add-on, which presents information about coupons, deals and discounts. It is compatible to all main browsers, including Google Chrome, Mozilla Firefox and Internet Explorer. No matter that it is not a virus, this program may show up on your computer without downloading it there because it uses quite unfair distribution methods. Besides, it may also try to 'bombard' you with its ads every time you start your browsing session, initiate Shopping Chip redirects to unknown websites or simply start slowing computer's work. Basically, these are the main factors that encouraged security experts to include this program to the category of 'adware'. If you want to stop ShoppingChip Ads, you have to get rid of this program as soon as possible.
HOW CAN Shopping Chip hijack my COMPUTER?
There are many websites that offer downloading Shopping Chip on the system for free. However, as we have already mentioned in this article, this program can also get inside computer without downloading it there. This distribution method is called 'bundling' and it can hardly be avoided if you don't pay attention to the installation process of the freeware. If want to avoid this program, check all windows that show up when installing free applications on your computer. In addition, uncheck these check boxes that notify about ShoppingChip's installation, agree with changes in the start page and default search engine, etc.. If this program manages to get inside computer, it shows continuous pop-up notifications that promote online deals. Besides, it may gather personal information about user's browsing habits, sites he/she likes to visit and similar.
HOW TO REMOVE Shopping Chip?
When trying to get rid of Shopping Chip virus, scan your PC with anti-spyware at first. For that we recommend using updated Reimage, Plumbytes Anti-MalwareWebroot SecureAnywhere AntiVirus or Malwarebytes Anti Malware. Once you make sure that your computer is free of potentially unwanted programs and viruses, uninstall Shopping Chip:
1. Click Start → Control Panel → Uninstall a Program.
2. When in the Add/Remove Programs/Uninstall a Program, look for recently installed/unfamiliar applications, such as Shopping Chip, ShoppingChip and these entries that may be related to it: Online HD TV, PutLockerDownload, TornTV, Yontoo, 1ClickDown, 1ClickDownloader, FB Photo Zoom, GoPhoto.it, HDvid Codec, IB Updater, Incredibar Toolbar, OneClickDownload, OneClickDownloader or similar unfamiliar entries.
3. Click 'Uninstall' and then OK to save the changes.
Finally, remove Shopping Chip extension from your browsers (Internet Explorer, Mozilla Firefox, and Google Chrome):
Internet Explorer:
1. Open Internet Explorer, go 'Tools' → 'Manage Add-ons' → 'Toolbars and Extensions'.
2. Here, look for unfamiliar entries, such as Shopping Chip and click 'uninstall'.
3. Once you remove it, change your start page.
Reset your Internet Explorer (Optional):
1. Open Internet Explorer, click the Gear icon or 'Tools' → 'Internet Options'.
2. Here, go to the 'Advanced' tab and click the 'Reset' button.
3. Go to the 'Reset Internet Explorer settings' → 'Delete personal settings' and click on 'Reset' option.
4. Finally, click 'Close' and OK to save the changes.
Mozilla Firefox:
1. Open Mozilla Firefox, go 'Tools' → 'Add-ons' → 'Extensions'.
2. Find suspicious-looking entries, such as Shopping Chip and click 'Uninstall'.
3. After that, change the start page.
Reset your Mozilla Firefox (Optional):
1. Open Mozilla Firefox, go to the 'Help' section → 'Troubleshooting Information'.
2. Here, choose a 'Reset Firefox' for a couple of times and 'Finish'.
Google Chrome:
1. Click the Chrome menu button on the Google Chrome browser, select Tools → Extensions.
2. Here, look for unfamiliar extensions like Shopping Chip and get rid of them by clicking on the Recycle Bin.
3. Don't forget to change start page.
We might be affiliated with any product we recommend on the site. Full disclosure in our Agreement of Use. By Downloading any provided Anti-spyware software to remove Shopping Chip you agree to our
privacy policy
and
agreement of use
.
Alternate Software
We have tested Plumbytes Anti-Malware's efficiency in removing Shopping Chip (2014-08-04)
•
Malwarebytes Anti Malware
We have tested Malwarebytes Anti Malware's efficiency in removing Shopping Chip (2014-08-04)
We have tested Hitman Pro's efficiency in removing Shopping Chip (2014-08-04)
•
Webroot SecureAnywhere AntiVirus
We have tested Webroot SecureAnywhere AntiVirus's efficiency in removing Shopping Chip (2014-08-04)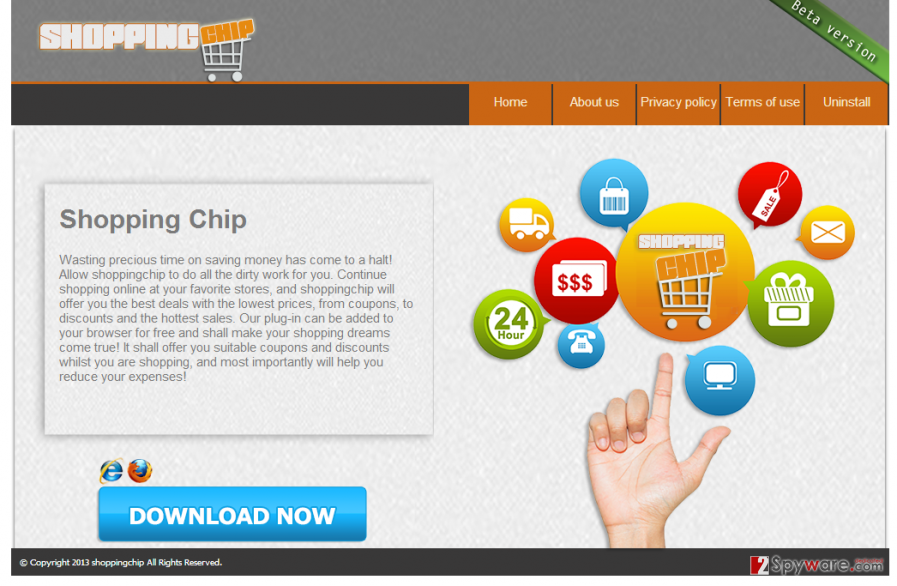 Removal guides in other languages