What is Spy Alert?
Spy Alert is an adware-type program, which is presented as a tool that is capable to find cookies on websites. While it may seem like a useful feature that could encourage you to download this program to the system, you should think twice before doing so. Why are we saying that? Beware that Spy Alert adware may also start causing very annoying and suspicious activities, including the appearance of tons of annoying ads, slow downs, redirects and similar issues. While you can never know what websites are promoted with a help of such program, you should try to stay away from Spy Alert ads and don't even think about clicking them. Besides, just like any other browser add-on, this program may start collecting data, which is related to your browsing history. In most of the cases, this program collects data that is related to people's search terms, mostly visited websites, data that they enter when visiting their favourite domains and so on.
Please, beware that Spy Alert may come on your PC system without asking your permission. That's because it has been actively promoted with the help of bundling. For avoiding that, you should start paying more attention to freeware's installation. How can you do that? This will be revealed in next paragraph of this article. If it has already entered your machine behind your back, beware that it may make some unwanted system changes on your PC system. That may result in annoying pop-up advertisements and browser's redirections. Don't think that changing the browser will help you to avoid unwanted activity of SpyAlerts adware. This program may add its own extension on all web browsers for that. If you want to stop this application for good, you should remove it from the system. For that you can use these programs: SpyHunter (compatible with Windows OS) or Webroot SecureAnywhere AntiVirus (compatible with Windows and Mac OS X).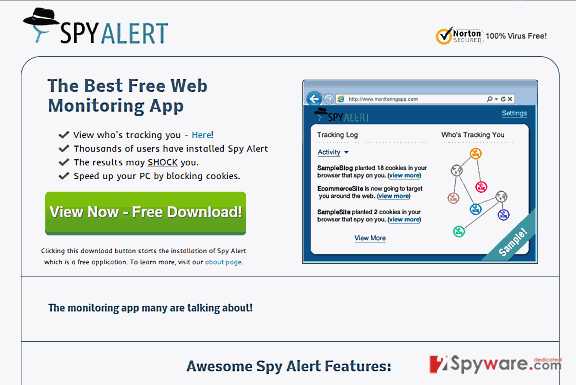 HOW CAN I GET SPY ALERT hijack MY COMPUTER?
Spy Alert is created by Long Mile Solutions LLC and is promoted via company's website. However, it can also infiltrate the machine in a bundle with other prorams. Typically, it comes inside with a help of freeware, which is usually packed with such potentially unwanted applications. When trying to prevent its infiltration, you should stop using freeware/shareware or download it only after unchecking unknown entries that are displayed in the components list. As soon as Spy Alert reaches its target PC system, it leaves its own extension on all Internet browsers that let it track users and their browsing habits. With the help of such program, third parties can get information about your IP address, operating system, browser and similar facts that are private. Besides, Spy Alert starts showing its annoying pop-up advertisements that are filled with unknown links. Once again, we don't recommend leaving Spy Alert if you haven't downloaded manually..
HOW TO REMOVE SPY ALERT?
If you want to get rid of Spy Alert and its continuous pop-up ads, you should follow these steps:
It might be that we are affiliated with any of our recommended products. Full disclosure can be found in our Agreement of Use.
By downloading any of provided Anti-spyware software to remove Spy Alert you agree with our
Privacy Policy
and
Agreement of Use
.