What is Surf Canyon?
Surf Canyon is a legitimate search engine, which can also be called search.surfcanyon.com. This search site may show up instead of your start page or default search engine out of nowhere, so, if it has just happened to you and your computer, it means that you have just installed a free application, which is used for spreading SurfCanyon in a bundle with it. In addition, if you have already been using this search engine for your searches, you should know that Surf Canyon may show you search results that are filled with commercial content. This is usually done for promoting affiliate websites and helping them to increase their popularity.
As soon as this program enters computer, it may try to affect each of web browsers that are installed on the system. It may easily alter such settings as the start page, the default search engine, the new tab page, etc. After that, you may notice search.surfcanyon.com on your computer each time you start your browsing. Besides, you may also notice "Surf Canyon Recommended", "Fast Search by Surf Canyon, Inc." and similar notifications during your search sessions. No matter how trustworthy this search engine looks, we don't recommend trusting it and using it for your searches. Otherwise, you may be tricked into visiting unknown websites. If you have already noticed that your favorite search engine has already been replaced by Surf Canyon, you should check your PC for this potentially unwanted program.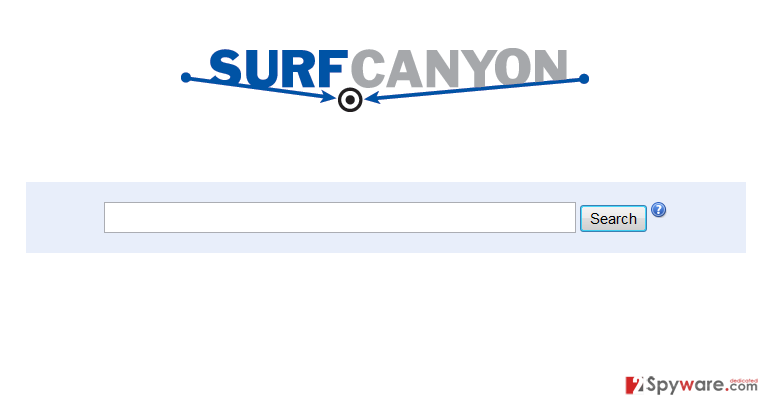 HOW CAN SURF CANYON hijack MY COMPUTER?
Surf Canyon is mostly distributed in a bundle with freeware and shareware. That's why there are so many users who report:
'Some how I got a surf canyon extension, I have tried to disable it and uninstall it, but it keeps coming back' or 'Somehow surf canyon was installed on my macbook. Now when I search in google it redirects to surf canyon. I tried to remove it from preferences and put in google.com as homesite but it won't let me. It keeps overriding what I change. any ideas on how to remove?'
or
'I get a surf canyon window popping up on my desktop. I checked in my control panel's program and features and it doesn't appear there. I checked in firefox, tools, add ons and it appears but it is disabled. There is no option to "remove" it as there are for other add ons. And, even though it shows as disabled, the window keeps popping up. How do I get rid of this?'
As a rule, search engines are actively spread in a bundle with freeware and shareware and if you would fall for installing an adware-type program, which is called Fast Search, you could find searchcanyon.com instead of your start page and the default search engine. Nevertheless, you can also make this search engine as your start page or the default search engine manually because it has been promoted for free. If you want to avoid infiltration of unwanted programs, you should start paying more attention to installation process of the freeware and uncheck checkboxes that agree to download suspicious browser add-ons, plugins, toolbars and similar programs on the system.
HOW TO REMOVE Surf Canyon?
Technically, this program is NOT A VIRUS. However, it may cause unwanted activity on your computer. That's why it has been added to 'potentially unwanted program' and other categories. If your want to get rid of search.surfcanyon.com and other unknown search engine, the easiest way to do that is by running a reputable anti-spyware. Of course, you can also use a manual removal guide that is given on the official website of this search engine or below.
It might be that we are affiliated with any of our recommended products. Full disclosure can be found in our Agreement of Use.
By downloading any of provided Anti-spyware software to remove Surf Canyon you agree with our
Privacy Policy
and
Agreement of Use
.