Surf Canyon
is also known as
search.surfcanyon.com, Surf Canyon redirect, Surf Canyon
| Type:
Browser Hijackers
What is Surf Canyon?
Surf Canyon is aquestionable search engine, which can also be called search.surfcanyon.com. This search site may show up instead of your start page or default search engine out of nowhere, so, if it has just happened to you and your computer, it means that your PC has just been hijacked. If you have already been using this search engine for your searches, you should know that instead of helping people and improving their searches, Surf Canyon may start displaying altered search results that can be used for redirecting users to affiliate websites and causing other problems. As soon as this program enters computer, it may try to affect each of web browsers that are installed on the system. It may easily alter such settings as the start page, default search engine, etc. After that, you may notice search.surfcanyon.com search engine on your computer every time when you start your browsing. Besides, you may also notice "Surf Canyon Recommended", "Fast Search by Surf Canyon, Inc." and similar notifications. No matter how trustworthy this search engine looks, we don't recommend trusting it and using it for your searches. Otherwise, you may be tricked into visiting unknown websites that are seeking only to increase their page rank or sales. If you have already noticed that your favorite search engine has already been replaces by Surf Canyon, you should check your PC with updated anti-spyware. In this case, we highly recommend using SpyHunter (compatible with Windows), Webroot SecureAnywhere AntiVirus (compatible with Mac OS X) or other reputable anti-spyware.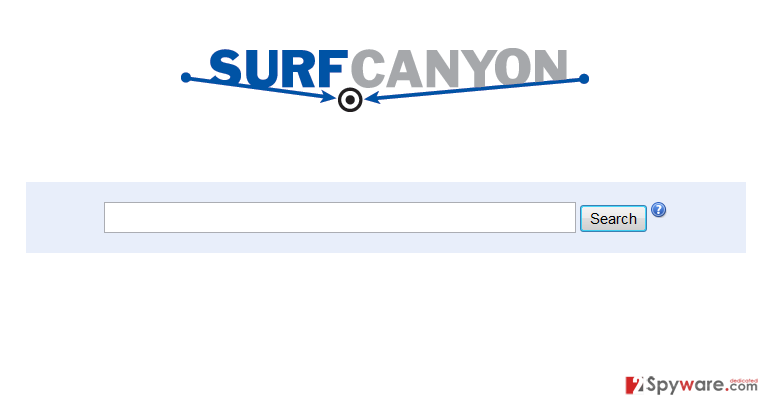 HOW CAN SURF CANYON hijack MY COMPUTER?
Surf Canyon is mostly distributed in a bundle with freeware and shareware. That's why there are so many users who report:
'Some how I got a surf canyon extension, I have tried to disable it and uninstall it, but it keeps coming back' or 'Somehow surf canyon was installed on my macbook. Now when I search in google it redirects to surf canyon. I tried to remove it from preferences and put in google.com as homesite but it won't let me. It keeps overriding what I change. any ideas on how to remove?'
As a rule, it comes together with an adware-type program, which is called Fast Search. Nevertheless, you can also install this program on your computer with other programs that are usually promoted for free. If you want to avoid infiltration of unwanted programs, you should start paying more attention to installation process of the freeware and uncheck checkboxes that agree to download suspicious browser add-ons, plugins, toolbars and similar programs on the system. Beware that there are hundreds of other potentially unwanted applications that are spread using the same method, which is mostly called as 'bundling'. If you missed this check mark and allowed installation of this hijacker, you should never make peace with it because there are lots of negative things that can be initiated by it. Please, get rid of this hijacker as soon as you notice Surf Canyon redirections on your computer and other problems. Beware that it may also start slowing your PC's performance or may start showing various pop-up ads during your browsing. In order to avoid them, we recommend eliminating Surf Canyon and Fast Search from the system.
HOW TO REMOVE Surf Canyon?
Technically, this program is NOT a virus. However, it may cause lots of questionable activities on your computer. That's why it has been added to 'browser hijacker' category. If your browser has been redirecting you to search.surfcanyon.com and other unknown websites, you should check your PC with a reputable anti-spyware or follow a guide below. It will help you to fix your computer and get rid of such suspicious programs as Suft Canyon.
It might be that we are affiliated with any of our recommended products. Full disclosure can be found in our Agreement of Use.
By downloading any of provided Anti-spyware software to remove Surf Canyon you agree with our
Privacy Policy
and
Agreement of Use
.