System Defragmenter. How to Remove? (Uninstall Guide)
System Defragmenter shouldn't be considered as real and legitimate computer defragmenter which will scan your hard drive and memory for problems and then will repair errors detected. This System Defragmenter is fake and additionally, after being installed, makes computers completely disabled from a normal functionality. When it gets on your machine, System Defragmenter just like fake anti-spyware program or other malware launches automatically after you reboot your computer and shows tons of fake messages that all report various problems detected. This program will state about hard drive errors, RAM or Windows problems, for example:

Critical Error
Hard Drive not found. Missing hard drive.

Critical Error
RAM memory usage is critically high. RAM memory failure.

Critical Error
Windows can't find hard disk space. Hard drive error

Critical Error!
Damaged hard drive clusters detected. Private data is at risk.

Critical Error!
Windows was unable to save all the data for the file System32496A8300. The data has been lost. This error may be caused by a failure of your computer hardware.
Critical Error
A critical error has occurred while indexing data stored on hard drive. System restart required.
System Restore
The system has been restored after a critical error. Data integrity and hard drive integrity verification required.
These problems, according to malware, won't be fixed until you purchase System Defragmenter. However, because it is a typical scam trying to swindle your money, even if you pay for System Defragmenter, its alerts won't stop and will interrupt every time you reboot your PC. That's because of the secret modifications made as soon as it gets there. When you attempt to run some programs on your computer, instead of their executables launched them it will display the following message from Windows task bar:
Read time of hard drive clusters less than 500 ms
32% of HDD space is unreadable
Hard drive does not respond to system commands
Bad sectors on hard drive or damaged file allocation table
Drive C initializing error
Ram Temperature is 83 C. Optimization is required for normal operation.
Data Safety Problem. System integrity is at risk.
Requested registry access is not allowed. Registry defragmentation required
Registry Error - Critical Error
GPU RAM temperature is critically high. Urgent RAM memory optimization is required to prevent system crash
All this information is fake just like the same System Defragmenter. So, as soon as you notice this scam on your computer, its warnings or alerts issued, pay attention because you definitely have malware installed. Remove System Defragmenter and never purchase this scamware.
The latest parasite names used by FakeHDD family:
S.M.A.R.T. Repair, File Rescue virus, File Restore virus, File Recovery, Smart Data Recovery
System Defragmenter properties
:
• Hides from the user
• Stays resident in background
It might be that we are affiliated with any of our recommended products. Full disclosure can be found in our Agreement of Use. By downloading any of provided Anti-spyware software you agree with our
Privacy Policy
and
Agreement of Use
.
Alternate Software
Alternate Software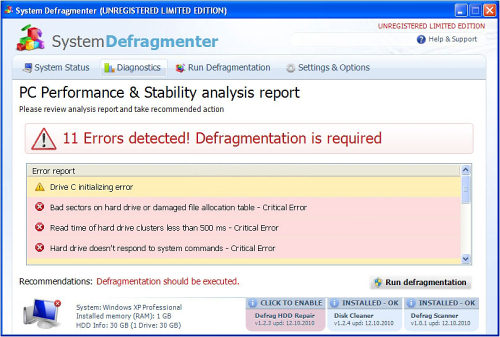 System Defragmenter manual removal
Kill processes
:
%Temp%[random characters].exe
%Temp%exe.exe
Delete registry values:
HKEY_CURRENT_USERSoftwareMicrosoftWindowsCurrentVersionRun "[random characters]"
HKEY_CURRENT_USERSoftwareMicrosoftWindowsCurrentVersionRun "exe.exe"
Unregister DLLs:
%Temp%maindll.dll
Delete files:
%Temp%[random characters]
%Temp%[random characters].exe
%Temp%exe.exe
%Temp%exe.log
%Temp%maindll.dll
%UserProfile%DesktopSystem Defragmenter.lnk
%UserProfile%Start MenuProgramsSystem Defragmenter
%UserProfile%Start MenuProgramsSystem DefragmenterSystem Defragmenter.lnk
Geolocation of System Defragmenter
Map reveals the prevalence of System Defragmenter. Countries and regions that have been affected the most are: United States.
---
Comments on System Defragmenter
Post a comment
Attention: Use this form only if you have additional information about a parasite, its removal instructions, additional resources or behavior. By clicking "post comment" button you agree not to post any copyrighted, unlawful, harmful, threatening, abusive, harassing, defamatory, vulgar, obscene, profane, hateful, racially, ethnically or otherwise objectionable material of any kind.