tech-ava-soft.org
is also known as
AVASoft Professional Antivirus, Antivirus Security 2013
| Type:
Browser Hijackers
tech-ava-soft.org is a trustworthy-looking website, which spreads malicious program called AVASoft Professional Antivirus. Please, don't fall for downloading it because you will infect your PC with rogue anti-spyware. Besides, Antivirus Security 2013 has also been hosted on this site. Once AVASoft Professional Antivirus gets inside the system, this program initiates serious havoc there by displaying fake alerts and system scanners reporting about invented viruses. Additionally, it asks you to pay for its licensed version and remove those 'parasites' from the PC. Instead of doing that, you must remove this rogue from the system. Typically, users enter tech-ava-soft.org while trying to reach other domains. They start being redirected without any permission asked once their machines get infected with the browser hijacker that modifies system's parameters and starts its work. Please, leave tech-ava-soft.org as soon as you find yourself redirected to it. Additionally, never pay 89.95 USD for AVASoft Professional Antivirus and run a full system scan with anti-malware to make sure that your machine is free of viruses.
HOW CAN I BE REDIRECTED TO tech-ava-soft.org?
As we have already mentioned, tech-ava-soft.org starts its promotion campaigns as soon as PC gets infected with the browser hijacker. This virus can easily be downloaded after opening spam, visiting illegal site or simply downloading freeware on your computer. Once it gets inside the system, this browser hijacker modifies DNS settings and begins rerouting tech-ava-soft.org. Of course, you can easily enter this site on your own as well, but we do NOT recommend staying on it. When on tech-ava-soft.org, you will also find a payment tab that 'helps' people to make a payment. Be sure that this is a misleading offer that results with the money loss. You don't need AVASoft Professional Antivirus because it's a rogue anti-spyware which has an empty virus database. Please, stay away from tech-ava-soft.org as much as you can.
WHAT SHOULD I DO WHEN REDIRECTED TO tech-ava-soft.org?
Once you start suffering from redirections to tech-ava-soft.org, you should scan your computer with updated anti-malware program. We recommend using STOPzilla, SpyHunter or other legitimate tools. If you are infected with AVASoft Professional Antivirus, follow this post: How to remove AVASoft Professional Antivirus?
Automatic tech-ava-soft.org removal:
It might be that we are affiliated with any of our recommended products. Full disclosure can be found in our Agreement of Use.
By downloading any of provided Anti-spyware software to remove tech-ava-soft.org you agree with our
Privacy Policy
and
Agreement of Use
.
Alternate Software
Virus Removal Phone Support
tech-ava-soft.org screenshot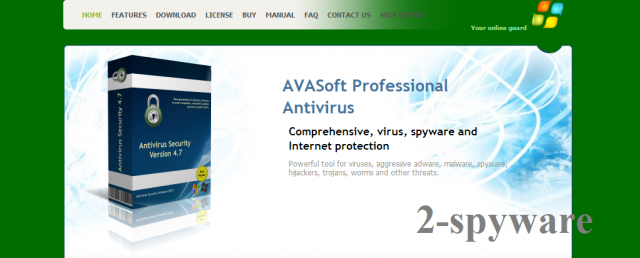 QR code for tech-ava-soft.org removal instructions

QR is short for Quick Response. They can be read quickly by the mobile phones. QR codes can store more data than standard barcodes, including url links, geo coordinates, and text.
The reason we add QR code to the website is that parasites like tech-ava-soft.org are really hard to remove on infected computer. you can quicly scan the QR code with your mobile device and have manual removal instructions to uninstall tech-ava-soft.org right in your pocket.
Simply use the QR scanner and read removal instructions from mobile device.
Removal guides in other languages
Information added: 2013-03-29 08:06
Information updated: 2013-03-29 08:06

Additional resources
Attention:
If you know know a reputable website reated to security threats, please add a link here:
add url