What is TidyNetwork?
If you noticed 'Ads by TidyNetwork' and similar notifications, it means that your PC was affected by adware-type program. By the way, this program is capable of causing not only unwanted advertisements on every website user tries to enter. It may also initiate redirects to affiliate websites, slowdowns and similar issues. All TidyNetwork advertisements are related to people's interests because this program may also be set to track people and their browsing habits as soon as it enters computer. It is mostly interested in their search terms, mostly visited websites and similar things, but it may also record information about PC's IP address, location, email address and data that is entered on each of website. You should be very careful with TidyNetwork virus because you can never know where its accumulated data is sent to. After collecting needed keywords, this program additionally redirects people to relevant websites. Of course, this usually happens out of nowhere, without any user's permission asked. Of course, the main reason why tidynetwork.com ads are displayed while people are visiting their favorite websites is the money. Just like Setaga Deal Finder, this program may easily affect all web browsers and then initiate serious havoc during people's browsing sessions. If you are constantly bombarded by TidyNetwork ads or suffer from its redirects to affiliate websites, remember that all these notifications are commercial, misleading and may be filled with the spammy content. We do NOT recommend ignoring these ads, you should remove tidynetwork.com virus from your computer without any delay.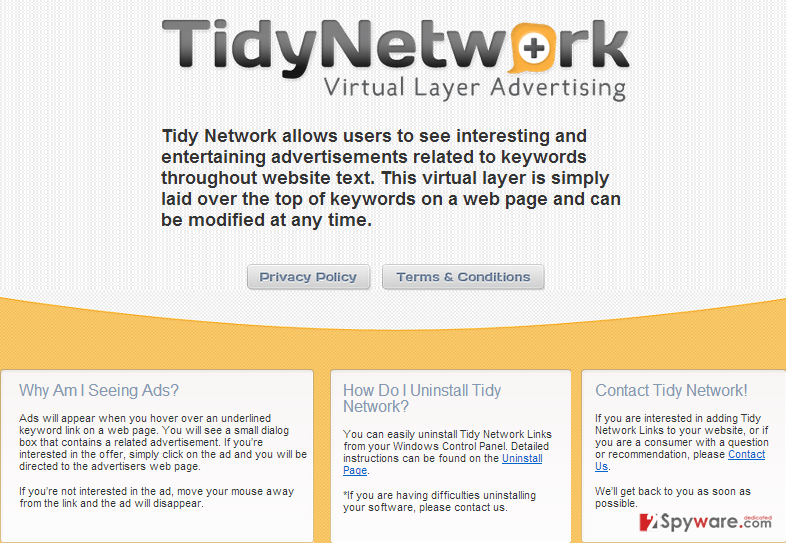 How can TidyNetwork hijack my computer?
As we have already mentioned before, people start seeing 'Ads by TidyNetwork' and similar advertisements once this adware-type program (it has also been labeled as potentially unwanted program) gets inside computer. While this virus is not a notorious one, it can easily initiate unwanted problems for its victim, so you should try to avoid it. If you want to do that, try to be very careful when downloading free programs on the system. Make sure you read End user's license agreement and similar information about the program that you want to install. If you think that everything sounds normal, select Custom or Advanced installation option and carefully look for 'optional downloads' and similar free programs that are offered in a bundle. Of course, you should opt out of TidyNetwork. Otherwise, you may start suffering from annoying commercials and redirects to suspicious pages. We do NOT recommend trusting such programs as this one because it is mostly used for affiliate marketing and may lead you to annoying redirects, tons of commercial advertisements and similar inconveniences that are initiated in order to earn the money. Keep in mind: TidyNetwork.com redirects or unwanted active words on websites mean that your PC has been affected by adware, so you should run a full system scan with anti-malware program and remove it from your machine.
How to remove TidyNetwork.com virus?
In order to get rid of 'Ads by TidyNetwork', you should follow this guide:
You can remove TidyNetwork.com automatically with a help of one of these programs: SpyHunter, STOPzilla, Malwarebytes Anti Malware. We recommend these applications because they can easily delete potentially unwanted programs and viruses with all their files and registry entries that are related to them.
It might be that we are affiliated with any of our recommended products. Full disclosure can be found in our Agreement of Use.
By downloading any of provided Anti-spyware software to remove TidyNetwork.com you agree with our
Privacy Policy
and
Agreement of Use
.