Warning! Spambot detected!. How to Remove? (Uninstall Guide)
Thanks to the fakevimes virus family, during the 2012 year we get new viruses almost every day. We count about hundred of rogue anti-spyware titles related only to this family. Their strategy is so simple - change the name and lauch the clone of the product. All of them have very short cycle of life. Fakevimes parasites are active only for several days. If you are infected with one of their program, you can get this mesage as a fake warning about the infected system:
Warning! Spambot detected!
Attention! A spambot sending viruses from your e-mail has been detected on your PC.
Below we provide the screenshot of this fake warning. There are many warning comming from the fakevimes parasites. All of them are fake. Cybercriminals use scary tactics to make users purchase their fake antivirus program. So if you see a warning "Warning! Spambot detected!" you are infected with one of their parasites, which name varies every day.
Please use automated removal solution to get rid of "Warning! Spambot detected!" fake message. The reputable antiispyware software are SpyHunter, Malwarebytes, Anti0malware and Stopzilla.
It might be that we are affiliated with any of our recommended products. Full disclosure can be found in our Agreement of Use. By downloading any of provided Anti-spyware software you agree with our
Privacy Policy
and
Agreement of Use
.
Alternate Software
Alternate Software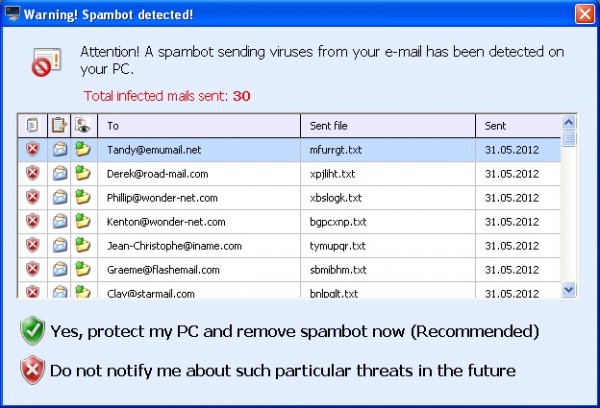 ---
Comments on Warning! Spambot detected!
Post a comment
Attention: Use this form only if you have additional information about a parasite, its removal instructions, additional resources or behavior. By clicking "post comment" button you agree not to post any copyrighted, unlawful, harmful, threatening, abusive, harassing, defamatory, vulgar, obscene, profane, hateful, racially, ethnically or otherwise objectionable material of any kind.