Windows AntiHazard Helper. How to Remove? (Uninstall Guide)
Windows AntiHazard Helper is a rogue antispyware program that comes from a huge family of rogue programs Rogue.FakeVimes. It's a typical program that pretends to be a security tool while in fact it has nothing to do with computer protection. Windows AntiHazard Helper infiltrates into random computer systems by employing Trojan viruses. It often uses hacked websites for this purpose.
Once inside, the program is configured to start automatically when computer is started. Basically, the application imitates every step of a security tool. It pretends to perform system scan, reports to detect a bunch of infections and later recommends removing them with a full version of Windows AntiHazard Helper. You must ignore such warnings as they are nothing close to the real situation of your computer. Beware that the program only wants to scare you into thinking your computer is at risk and gain your money.
Additionally, Windows AntiHazard Helper generates fake security notifications and pop up ads that state your system is at risk and offers purchasing a full version of a program in order to remove them:
Error
Keylogger activity detected. System information security is at risk.
It is recommended to activate protection and run a full system scan.
Error
Software without a digital signature detected.
Your system files are at risk. We strongly advise you to activate your protection.
Torrent Alert
Recomended: Please use secure encrypted protocol for torrent links.
Torrent link detected!
Receiving this notification means that you have violated the copyright laws. Using Torrent for downloading movies and licensed software shall be prosecuted and you may be sued for cybercrime and breach of law under the SOPA legislation.
Please register your copy of the AV to activate anonymous data transfer protocol through the torrent link.
Warning! Identity theft attempt Detected
Hidden connection IP: xxxxxxxxx
Target: Your passwords for sites
Warning
Firewall has blocked a program from accessing the Internet.
Windows Media Player Resources
C:\Windows\system32\dllcache\wmploc.dll
C:\Windows\system32\dllcache\wmploc.dll is suspected to have infected your PC. This type of virus intercepts entered data and transmits them to a remote server.
Do not purchase Windows AntiHazard Helper under any circumstances as it will not help you in detecting or removing any infections. You must get rid of Windows AntiHazard Helper as soon as you notice its very first signs on your computer. We highly recommend you scanning you system with PlumbytesWebroot SecureAnywhere AntiVirus or Reimage. If you have made a payment for it, do not hesitate and contact your credit card company as soon as you can. Do not allow cyber criminals to trick and rip you off that easily.
The latest parasite names used by FakeVimes:
Windows Internet Guard, Windows Web Watchdog, Windows AntiBreach Patrol, Windows Antivirus Patrol, Windows Pro Defence Kit
It might be that we are affiliated with any of our recommended products. Full disclosure can be found in our Agreement of Use. By downloading any of provided Anti-spyware software you agree with our
Privacy Policy
and
Agreement of Use
.
Alternate Software
Alternate Software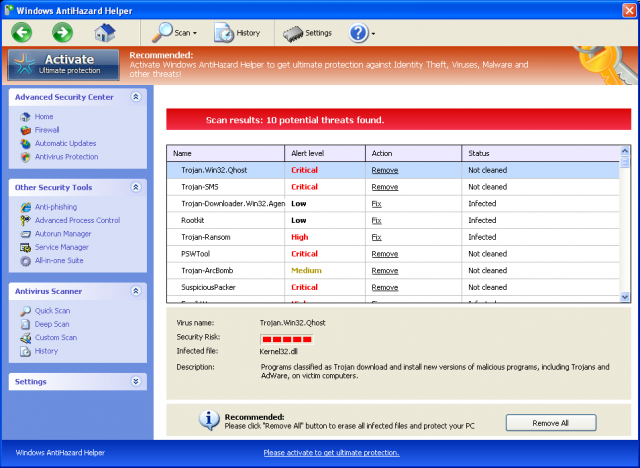 ---
Comments on Windows AntiHazard Helper
Post a comment
Attention: Use this form only if you have additional information about a parasite, its removal instructions, additional resources or behavior. By clicking "post comment" button you agree not to post any copyrighted, unlawful, harmful, threatening, abusive, harassing, defamatory, vulgar, obscene, profane, hateful, racially, ethnically or otherwise objectionable material of any kind.