Windows Personal Doctor. How to remove? (Uninstall guide)
Windows Personal Doctor is a rogue anti-spyware program that you should be aware of. This progam is a scam. It reports non-existent infections and security threats to trick you into purchasing bogus anti-spyware prgram. It is being distributed via fake virus scanners and hacked websites. It can be installed manually as well. Either installed manually or without any user's permission it starts fradulent acions on the infected computer. Its strategy involves some certain modifications done for computer's registry and also invention of some harmless files that later will be detected as malware during false system scan.
When Windows Personal Doctor is installed onto your computer, it will start diplayinf false positives reporting tons of viruses detected on the system. Fake alerts and other pop-ups are nothing but scam because their function is to trick you into thinking about the program which will fix every single problem found on your PC. Windows Personal Doctor claims that it is definitely the best removal tool for these trojans, keyloggers and spyware but before getting it installed asks paying the money. However, these detections should be simply ignored because sometimes they may even be critical Windows system files.
Error
Keylogger activity detected. System information security is at risk.
It is recommended to activate protection and run a full system scan.

Error
Software without a digital signature detected.
Your system files are at risk. We strongly advise you to activate your protection.

This is the way rogue anti-spywares act, and Windows Personal Doctor is a typical fake anti-spyware program. Ignore pop-up alerts of this malware and keep away from instructions it recommends you to do. Remove Windows Personal Doctor with all its malicious components before it destroys your OS. This program is definitely not wanted on your computer, so remove Windows Personal Doctor using a reliable anti-spyware given below. If you can't run it, then restart your computer in safe mode with networking and try again.
The latest parasite names used by FakeVimes:
[newest]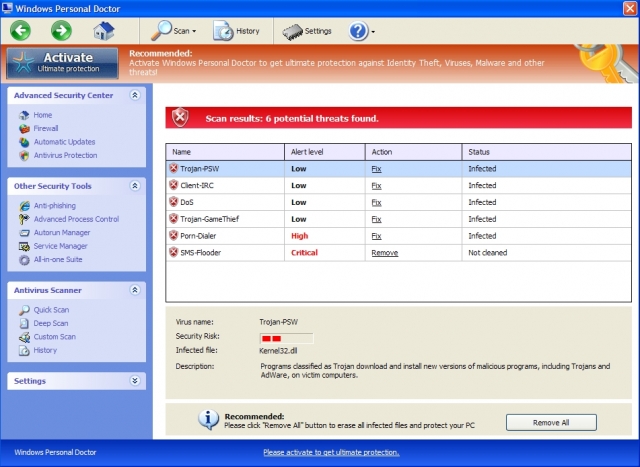 Windows Personal Doctor manual removal:
Kill processes:
Inspector-[rnd].exe
Delete registry values:
HKEY_LOCAL_MACHINESOFTWAREMicrosoftInternet ExplorerMainFeatureControlFEATURE_ERROR_PAGE_BYPASS_ZONE_CHECK_FOR_HTTPS_KB954312
HKEY_CURRENT_USERSoftwareMicrosoftWindowsCurrentVersionInternet Settings "WarnOnHTTPSToHTTPRedirect" = 0
HKEY_CURRENT_USERSoftwareMicrosoftWindowsCurrentVersionPoliciesSystem "DisableRegedit" = 0
HKEY_CURRENT_USERSoftwareMicrosoftWindowsCurrentVersionPoliciesSystem "DisableRegistryTools" = 0
HKEY_CURRENT_USERSoftwareMicrosoftWindowsCurrentVersionPoliciesSystem "DisableTaskMgr" = 0
HKEY_CURRENT_USERSoftwareMicrosoftWindowsCurrentVersionRun "Inspector"
HKEY_CURRENT_USERSoftwareMicrosoftWindowsCurrentVersionSettings "ID" = 0
HKEY_CURRENT_USERSoftwareMicrosoftWindowsCurrentVersionSettings "net" = "2012-2-17_2"
HKEY_CURRENT_USERSoftwareMicrosoftWindowsCurrentVersionSettings "UID" = "rudbxijemb"
HKEY_LOCAL_MACHINESOFTWAREMicrosoftWindows NTCurrentVersionImage File Execution Options_avp32.exe
HKEY_LOCAL_MACHINESOFTWAREMicrosoftWindows NTCurrentVersionImage File Execution Options_avpcc.exe
HKEY_LOCAL_MACHINESOFTWAREMicrosoftWindows NTCurrentVersionImage File Execution OptionsashDisp.exe
HKEY_LOCAL_MACHINESOFTWAREMicrosoftWindows NTCurrentVersionImage File Execution Optionsdivx.exe
HKEY_LOCAL_MACHINESOFTWAREMicrosoftWindows NTCurrentVersionImage File Execution Optionsmostat.exe
HKEY_LOCAL_MACHINESOFTWAREMicrosoftWindows NTCurrentVersionImage File Execution Optionsplatin.exe
HKEY_LOCAL_MACHINESOFTWAREMicrosoftWindows NTCurrentVersionImage File Execution Optionstapinstall.exe
HKEY_LOCAL_MACHINESOFTWAREMicrosoftWindows NTCurrentVersionImage File Execution Optionszapsetup3001.exe
Unregister DLLs:
npswf32.dll
Delete files:
%appdata%npswf32.dll
%appdata%Inspector-[3 random characters].exe
%desktopdir%Windows Personal Doctor.lnk
%appdata%result.db
%StartMenu%ProgramsWindows Personal Doctor.lnk
About the author