Windows PRO Scanner. How to remove? (Uninstall guide)
Windows PRO Scanner is a rogue anti-spyware program that is being distributed via infected websites and fake online virus scanners. It is installed when you download and install Trojans hiding on the insecure Web sources or may come with file downloads and spam e-mail attachments too. If it's promoted via drive-by download sites that you don't even need to install anything yourself. Once inside, these Trojans let this malware with all its necessary data enter the machine and also configure the program to start automatically right after Windows fully starts. When Windows PRO Scanner is installed, it starts displaying fake security alerts in the computer taskbar and your computer screen. These messages state you are infected or have some problems on your PC and list a great variety of parasites found on your PC that do not even exist.
When you click these alerts, Windows PRO Scanner automatically starts fake system scan. This scan will not only display fake and exaggerated results, but will also find legitimate programs that are important for a proper PC work. This is very dangerous approach because inexpierenced users to delete safe files. The full version of Windows PRO Scanner additionally will be offered as the only solution for fixing everything, though, in order to remove all these earlier mentioned infections, you will be asked paying the money at first. While Windows PRO Scanner is active, is also displays tons of annoying pop-up ads and security alerts. All these messages state that malicious software is running and wants to send your personal data through the Internet. However, just like the scan results, all these notifications should be ignored because they are false.
Error
Keylogger activity detected. System information security is at risk.
It is recommended to activate protection and run a full system scan.
Error
Software without a digital signature detected.
Your system files are at risk. We strongly advise you to activate your protection.
It goes without saying that Windows PRO Scanner is a scam designed to steal money from PC users. Do not pay for it! If you have already purchased it, you should contact your credit card company to dispute the charges. Please follow the steps of the removal guide and uninstall Windows PRO Scanner and any related malware.
The latest parasite names used by FakeVimes:
[newest]
We might be affiliated with any product we recommend on the site. Full disclosure in our Agreement of Use. By Downloading any provided Anti-spyware software to remove Windows PRO Scanner you agree to our
privacy policy
and
agreement of use
.
Alternate Software
We have tested Plumbytes Anti-Malware's efficiency in removing Windows PRO Scanner (2012-02-27)
•
Malwarebytes Anti Malware
We have tested Malwarebytes Anti Malware's efficiency in removing Windows PRO Scanner (2012-02-27)
We have tested Hitman Pro's efficiency in removing Windows PRO Scanner (2012-02-27)
•
Webroot SecureAnywhere AntiVirus
We have tested Webroot SecureAnywhere AntiVirus's efficiency in removing Windows PRO Scanner (2012-02-27)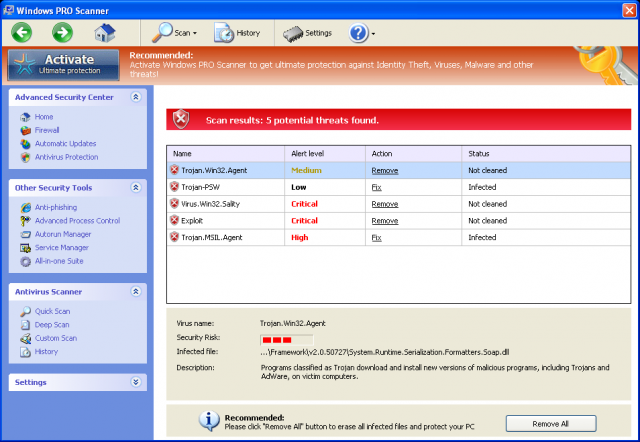 Windows PRO Scanner manual removal:
Kill processes:
Inspector-[rnd].exe
Delete registry values:
HKEY_LOCAL_MACHINESOFTWAREMicrosoftInternet ExplorerMainFeatureControlFEATURE_ERROR_PAGE_BYPASS_ZONE_CHECK_FOR_HTTPS_KB954312
HKEY_CURRENT_USERSoftwareMicrosoftWindowsCurrentVersionInternet Settings "WarnOnHTTPSToHTTPRedirect" = 0
HKEY_CURRENT_USERSoftwareMicrosoftWindowsCurrentVersionPoliciesSystem "DisableRegedit" = 0
HKEY_CURRENT_USERSoftwareMicrosoftWindowsCurrentVersionPoliciesSystem "DisableRegistryTools" = 0
HKEY_CURRENT_USERSoftwareMicrosoftWindowsCurrentVersionPoliciesSystem "DisableTaskMgr" = 0
HKEY_CURRENT_USERSoftwareMicrosoftWindowsCurrentVersionRun "Inspector"
HKEY_CURRENT_USERSoftwareMicrosoftWindowsCurrentVersionSettings "ID" = 0
HKEY_CURRENT_USERSoftwareMicrosoftWindowsCurrentVersionSettings "net" = "2012-2-17_2"
HKEY_CURRENT_USERSoftwareMicrosoftWindowsCurrentVersionSettings "UID" = "rudbxijemb"
HKEY_LOCAL_MACHINESOFTWAREMicrosoftWindows NTCurrentVersionImage File Execution Options_avp32.exe
HKEY_LOCAL_MACHINESOFTWAREMicrosoftWindows NTCurrentVersionImage File Execution Options_avpcc.exe
HKEY_LOCAL_MACHINESOFTWAREMicrosoftWindows NTCurrentVersionImage File Execution OptionsashDisp.exe
HKEY_LOCAL_MACHINESOFTWAREMicrosoftWindows NTCurrentVersionImage File Execution Optionsdivx.exe
HKEY_LOCAL_MACHINESOFTWAREMicrosoftWindows NTCurrentVersionImage File Execution Optionsmostat.exe
HKEY_LOCAL_MACHINESOFTWAREMicrosoftWindows NTCurrentVersionImage File Execution Optionsplatin.exe
HKEY_LOCAL_MACHINESOFTWAREMicrosoftWindows NTCurrentVersionImage File Execution Optionstapinstall.exe
HKEY_LOCAL_MACHINESOFTWAREMicrosoftWindows NTCurrentVersionImage File Execution Optionszapsetup3001.exe
Unregister DLLs:
npswf32.dll
Delete directories:
%appdata%npswf32.dll
%appdata%Inspector-[3 random characters].exe
%desktopdir%Windows PRO Scanner.lnk
%appdata%result.db
%StartMenu%ProgramsWindows PRO Scanner.lnk