Windows Safety Tweaker. How to remove? (Uninstall guide)
Windows Safety Tweaker is a dangerous malware that should never be kept on your computer. Instead of believing its reported viruses, you should remove this program because it reports only invented trojans and malware and does that for the only reason – to make users buy its licensed version. Please, never believe those problems that are reported by Windows Safety Tweaker because it has an empty virus database and has no capability to find or remove malware. In addition, if simply kept on the system, this program will become really annoying application interrupting you every time you start browsing the web. So, in order to save your PC, remove Windows Safety Tweaker without any delay.
As soon as Windows Safety Tweaker gets on the target PC, it modifies the system to make it start once the PC is rebooted. It must be said that PC users can hardly notice that moment when this malware gets inside their PCs because it usually relies on trojans that get inside through security vulnerabilities found. In addition, this rogue anti-spyware starts displaying its faked alerts and scanners that imitate scanning the system for malware and additionally report about numerous viruses detected. As it was mentioned earlier, you should never believe those threats that are reported by Windows Safety Tweaker. Please, ignore such alerts:
Error
Keylogger activity detected. System information security is at risk.
It is recommended to activate protection and run a full system scan.

Error
Software without a digital signature detected.
Your system files are at risk. We strongly advise you to activate your protection.

Keep in mind that you must remove Windows Safety Tweaker just like you have been recommended with earlier its version Windows Personal Doctor. If you simply keep this rogueware on your PC, you will keep getting super-annoying popups and scanners which will repeatedly offer you to purchase its licensed version. Never do that! You are highly recommended to remove Windows Safety Tweaker as soon as you see this malware on your computer.
The latest parasite names used by FakeVimes:
[newest]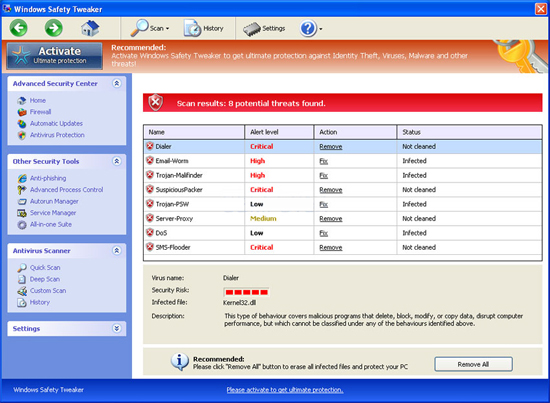 Windows Safety Tweaker manual removal:
Kill processes:
Inspector[random].exe
Protector-[3 random characters].exe
Delete registry values:
HKEY_CURRENT_USERSoftwareMicrosoftWindowsCurrentVersionInternet Settings "WarnOnHTTPSToHTTPRedirect" = 0
HKEY_CURRENT_USERSoftwareMicrosoftWindowsCurrentVersionPoliciesSystem "DisableRegedit" = 0
HKEY_CURRENT_USERSoftwareMicrosoftWindowsCurrentVersionPoliciesSystem "DisableRegistryTools" = 0
HKEY_CURRENT_USERSoftwareMicrosoftWindowsCurrentVersionPoliciesSystem "DisableTaskMgr" = 0
HKEY_CURRENT_USERSoftwareMicrosoftWindowsCurrentVersionRun "Inspector"
HKEY_CURRENT_USERSoftwareMicrosoftWindowsCurrentVersionSettings "net" = "2012-3-11_2"
HKEY_CURRENT_USERSoftwareMicrosoftWindowsCurrentVersionSettings "UID" = "origkboryd"
HKEY_LOCAL_MACHINESOFTWAREMicrosoftInternet ExplorerMainFeatureControlFEATURE_ERROR_PAGE_BYPASS_ZONE_CHECK_FOR_HTTPS_KB954312
HKEY_LOCAL_MACHINESOFTWAREMicrosoftWindows NTCurrentVersionImage File Execution Optionsatcon.exe
HKEY_LOCAL_MACHINESOFTWAREMicrosoftWindows NTCurrentVersionImage File Execution Optionsbipcp.exe
HKEY_LOCAL_MACHINESOFTWAREMicrosoftWindows NTCurrentVersionImage File Execution Optionsecengine.exe
HKEY_LOCAL_MACHINESOFTWAREMicrosoftWindows NTCurrentVersionImage File Execution Optionsinfwin.exe
HKEY_LOCAL_MACHINESOFTWAREMicrosoftWindows NTCurrentVersionImage File Execution Optionsmsconfig
HKEY_LOCAL_MACHINESOFTWAREMicrosoftWindows NTCurrentVersionImage File Execution OptionsPavFnSvr.exe
HKEY_LOCAL_MACHINESOFTWAREMicrosoftWindows NTCurrentVersionImage File Execution Optionssahagent.exe
HKEY_LOCAL_MACHINESOFTWAREMicrosoftWindows NTCurrentVersionImage File Execution Optionstitaninxp.exe
HKEY_LOCAL_MACHINESOFTWAREMicrosoftWindows NTCurrentVersionImage File Execution Optionswsbgate.exe
Unregister DLLs:
NPSWF32.dll
Delete files:
%AppData%NPSWF32.dll
%AppData%Protector-[random 3 characters].exe
%AppData%result.db
%CommonStartMenu%ProgramsWindows Safety Tweaker.lnk
%Desktop%Windows Safety Tweaker.lnk
About the author