Windows Secure Kit 2012
is also known as
WindowsSecureKit2012
| Type:
Browser Hijackers
Windows Secure Kit 2012 is a browser hijacker that has been noticed even on some well known websites. It seems that it's a new way how scammers try to distribute Security Shield and other rogue anti-spywares that have been found to belong to FakeVimes or WinWebSec families of rogues. Undoubtedly, scammers seek to generate some money in this way.
By displaying fake Windows Security Alert that reports about numerous viruses detected, Windows Secure Kit 2012 initiates a need to purchase licensed version of Security Shield. Please, never fall into this scam. Instead of that, make sure your anti-virus and anti-spyware programs are up to date in order to have Windows Secure Kit 2012 flagged as malware before it tricks you. In addition, if you have noticed Security Shield on your computer, don't leave it there because it will continue redirecting you to its purchase page or even may disable you from the internet and let more viruses inside. We highly recommend you to run a full system scan with SpyHunter and Spyware Doctor to remove Security Shield without any delay.
Automatic Windows Secure Kit 2012 removal:
It might be that we are affiliated with any of our recommended products. Full disclosure can be found in our Agreement of Use.
By downloading any of provided Anti-spyware software to remove Windows Secure Kit 2012 you agree with our
Privacy Policy
and
Agreement of Use
.
Alternate Software
Virus Removal Phone Support
Windows Secure Kit 2012 screenshot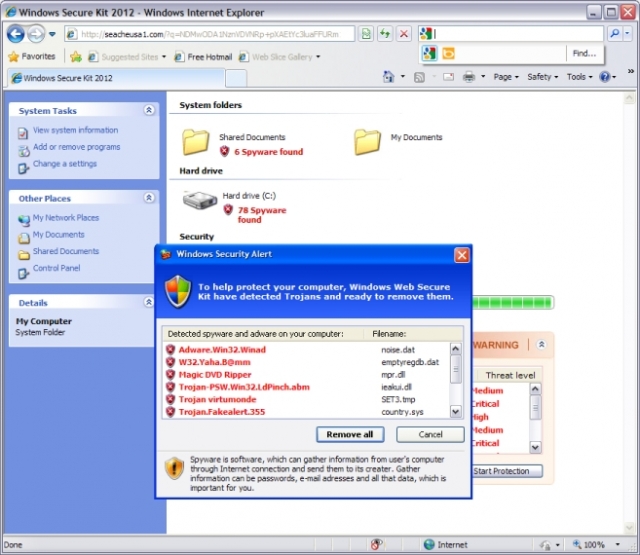 QR code for Windows Secure Kit 2012 removal instructions

QR is short for Quick Response. They can be read quickly by the mobile phones. QR codes can store more data than standard barcodes, including url links, geo coordinates, and text.
The reason we add QR code to the website is that parasites like Windows Secure Kit 2012 are really hard to remove on infected computer. you can quicly scan the QR code with your mobile device and have manual removal instructions to uninstall Windows Secure Kit 2012 right in your pocket.
Simply use the QR scanner and read removal instructions from mobile device.
Information added: 2012-03-06 04:30
Information updated: 2012-05-22 02:09

Additional resources
Attention:
If you know know a reputable website reated to security threats, please add a link here:
add url