XP AntiMalware. How to Remove? (Uninstall Guide)
XP AntiMalware is a rogue anti-malware program that is promoted through the use of Trojans, browser hijackers and other similar malware. When your computer is infected with this bogus software, you will see many fake security alerts and notifications stating that your computer is infected. While running, XPAntiMalware will supposedly scan your computer and display a variety of infections that won't be removed unless you first purchase the program. The scan results are false, you can safely ignore them. The same could be said about fake system security alerts, you should ignore them too.
To make things even worse, XP AntiMalware will hijack Internet Explorer so that you will be constantly redirected to various misleading websites that promote malicious software or display misleading online ads. The rogue application will also block security related websites and antivirus software to protect itself form being deleted. As you can see, program is nothing more but a scam. Please use the removal guide below to remove XP AntiMalware from your PC as soon as possible.
XP AntiMalware removal instructions:
1. Click Start->Run (or WinKey+R). Input: "command". Press Enter or click OK.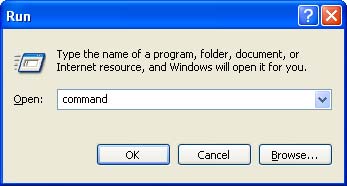 2. Type "notepad" as shown in the image below and press Enter. Notepad will open.
3. Copy and past the following text into Notepad:

Windows Registry Editor Version 5.00

[-HKEY_CURRENT_USERSoftwareClasses.exe]
[-HKEY_CURRENT_USERSoftwareClassessecfile]
[-HKEY_CLASSES_ROOTsecfile]
[-HKEY_CLASSES_ROOT.exeshellopencommand]

[HKEY_CLASSES_ROOTexefileshellopencommand]
@=""%1" %*"

[HKEY_CLASSES_ROOT.exe]
@="exefile"
"Content Type"="application/x-msdownload"
4. Save file as "exefix.reg" (without quotation-marks) to your Desktop.
NOTE: choose Save as type: All files
5. Double-click to open exefix.reg. Click "Yes" for Registry Editor prompt window.
6. Download
Spyware Doctor
or an automatic removal tool below. Update Spyware Doctor and run a full system scan.
If you can't complete the above steps then please use another PC to download an automatic removal tool and
exefix.reg
(Right Click (Save Target As)) to download file. Copy these files to USB flash drive or any other external media and transfer them to infected computer. Launch exefix.reg file first and then install Spyware Doctor.
XP AntiMalware properties
:
• Changes browser settings
• Shows commercial adverts
• Connects itself to the internet
• Stays resident in background
It might be that we are affiliated with any of our recommended products. Full disclosure can be found in our Agreement of Use. By downloading any of provided Anti-spyware software you agree with our
Privacy Policy
and
Agreement of Use
.
Alternate Software
Alternate Software
XP AntiMalware manual removal
Kill processes
:
ave.exe
Delete registry values:
HKEY_CURRENT_USERSoftwareClasses.exe
HKEY_CURRENT_USERSoftwareClasses.exeDefaultIcon
HKEY_CURRENT_USERSoftwareClasses.exeshell
HKEY_CURRENT_USERSoftwareClasses.exeshellopen
HKEY_CURRENT_USERSoftwareClasses.exeshellopencommand
HKEY_CURRENT_USERSoftwareClasses.exeshellrunas
HKEY_CURRENT_USERSoftwareClasses.exeshellrunascommand
HKEY_CURRENT_USERSoftwareClasses.exeshellstart
HKEY_CURRENT_USERSoftwareClasses.exeshellstartcommand
HKEY_CURRENT_USERSoftwareClassessecfile
HKEY_CURRENT_USERSoftwareClassessecfileDefaultIcon
HKEY_CURRENT_USERSoftwareClassessecfileshell
HKEY_CURRENT_USERSoftwareClassessecfileshellopen
HKEY_CURRENT_USERSoftwareClassessecfileshellopencommand
HKEY_CURRENT_USERSoftwareClassessecfileshellrunas
HKEY_CURRENT_USERSoftwareClassessecfileshellrunascommand
HKEY_CURRENT_USERSoftwareClassessecfileshellstart
HKEY_CURRENT_USERSoftwareClassessecfileshellstartcommand
HKEY_CURRENT_USERSoftwareClasses.exeshellopencommand | @ = ?€??€?%AppData%ave.exe?€? /START ?€?%1?€ณ %*?€?
HKEY_CURRENT_USERSoftwareClasses.exeshellopencommand | IsolatedCommand = ?€??€?%1?€ณ %*?€?
HKEY_CURRENT_USERSoftwareClasses.exe | @ = ?€?secfile?€?
HKEY_CURRENT_USERSoftwareClasses.exe | Content Type = ?€?application/x-msdownload?€?
HKEY_CURRENT_USERSoftwareClassessecfileshellopencommand | @ = ?€??€?%AppData%ave.exe?€? /START ?€?%1?€ณ %*?€?
HKEY_CURRENT_USERSoftwareClassessecfileshellopencommand | IsolatedCommand = ?€??€?%1?€ณ %*?€?
Delete files:
%UserProfile%\Local Settings\Application Data\ave.exe
Geolocation of XP AntiMalware
Map reveals the prevalence of XP AntiMalware. Countries and regions that have been affected the most are: United States.
---
Comments on XP AntiMalware
Post a comment
Attention: Use this form only if you have additional information about a parasite, its removal instructions, additional resources or behavior. By clicking "post comment" button you agree not to post any copyrighted, unlawful, harmful, threatening, abusive, harassing, defamatory, vulgar, obscene, profane, hateful, racially, ethnically or otherwise objectionable material of any kind.