XP Antivirus 2013. How to remove? (Uninstall guide)
XP Antivirus 2013 (also called as XP Anti-virus 2013) is a malicious application that is expected to start actively infecting PC users in the future. While there are only fake screenshots spreading on the Internet, we write this post with a reason to warn our users about all possible infections. So, just like XP Defender 2013, this program is expected to do anything to get you into paying some money for its registration. For that, it will show fake alerts and system scanners capapble to report only about harmless system files as viruses. Additionally, this malware will offer to purchase the license of XP Antivirus 2013 and remove those 'threats' detected. Do NOT fall for all this misleading plan that seeks only to rip you off! You are highly recommended to check your computer with legitimate anti-malware and make sure that you are under the risk of malware. Of course, you must remove XP Anti-virus 2013 from your computer as soon as it is detected.
HOW CAN I GET INFECTED WITH XP Antivirus 2013?
If this program accurately follows its forerunners, XP Antivirus 2013 is highly expected to rely on trojan horses when it comes an infiltration moment. Typically, such threats hide in infected downloads, such as fake video/audio codecs, spam email attachments, infected files and hacked websites. As soon as it manages to get inside the PC, it looks perfectly legitimate and starts its dirty campaign we have already mentioned. XP Anti-virus 2013 is expected to claim to detect dangerous stuff on your computer that doesn't exist for real and display such or similar notifications:
Malware Intrusion
Sensitive areas of your system were found to be under attack. Spy software attack or virus infection possible. Prevent further damage or your private data will get stolen. Run an anti-spyware scan now. Click here to start.
All these alerts are displayed for one purpose – to get your money and leave you with malware infection. Instead of falling for all this game, you should stay away from XP Antivirus 2013 and get rid of its infected files.
HOW CAN I REMOVE XP Antivirus 2013?
You can remove any of the rogue anti-malware programs if you use updated anti-malware program. If you happen to see XP Anti-virus 2013 on your computer, run a full system scan with Reimage, Plumbytes Anti-MalwareWebroot SecureAnywhere AntiVirus, Malwarebytes Anti Malware or other reputable security software. Note that you may find yourself disabled from getting on the Internet and downloading it. To overcome this, enter this serial code and make your virus think you have purchased the license: 3425-814615-3990. This won't remove infection from your computer, but will disable it and you will be capapble to run a full system scan after that.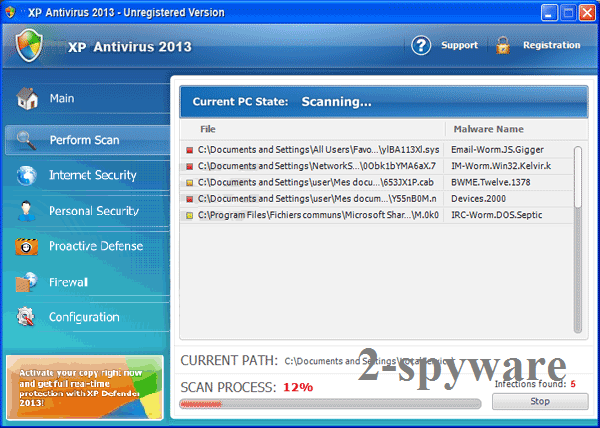 XP Antivirus 2013 manual removal:
Kill processes:
%AppData%[random 3 letters].exe
Delete files:
%AppData%[random 3 letters].exe
About the author
Removal guides in other languages