'You shall not pass' is a fake notification, which clearly reveals the fact that your computer is infected with the browser hijacker. As soon as this threat gets inside the PC, it modifies the system and affects all Internet browsers, including IE, Mozilla Firefox and Google Chrome. As a result, user becomes incapable to get on such popular websites as Facebook, Google, ebay, Amazon and similar ones. Instead of reaching these sites, he/she sees only a huge 'You shall not pass' notification with a photo of magician (often called as Gendalf). Please, do NOT ignore this virus because it may initiate more problems during your browsing sessions. Typically, it may redirect you to malicious site or track your browsing habits and steal personal information from the PC. In order to remove 'You shall not pass' virus, scan your PC with updated anti-spyware and get rid of malicious entries.
HOW CAN I GET INFECTED WITH 'You shall not pass'?
'You shall not pass' virus starts appearing during victim's browsing sessions as soon as it gets inside its target PC. For that, it relies on trojan horse, which is known as Backdoor:Win32/Fynloski.A. Typically, this trojan exploits security vulnerabilities and attacks poorly protected systems. In order to prevent its infiltration, you should use reputable security software and also avoid illegal websites, freeware, shareware, spam and similar things. Once it attacks the PC, 'You shall not pass' virus modifies some of PC's parameters and begins interrupting victim's search sessions by redirecting him/her to malicious site. If you also see this annoying 'You shall not pass' notification, you should take all necessary measures to eliminate this threat from your computer.
HOW TO REMOVE 'You shall not pass'?
If you are continuously interrupted by 'You shall not pass' alert, you are infected with dangerous virus. In order to remove it from the system, we highly recommend using STOPzilla or SpyHunter. Of course, don't forget to use updated versions to have a full virus database.
Automatic You shall not pass removal:
It might be that we are affiliated with any of our recommended products. Full disclosure can be found in our Agreement of Use.
By downloading any of provided Anti-spyware software to remove You shall not pass you agree with our
Privacy Policy
and
Agreement of Use
.
Alternate Software
Virus Removal Phone Support
You shall not pass screenshot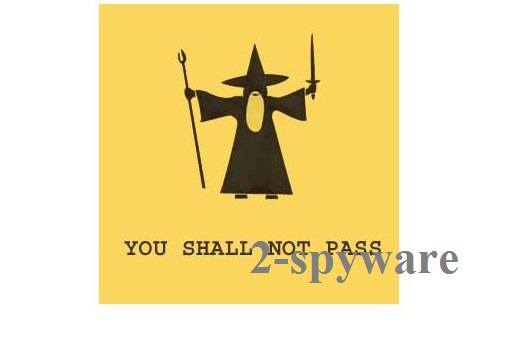 You shall not pass manual removal
Kill processes
:
[random].exe
Delete files:
[random].exe
Geolocation of You shall not pass
This map reveals the prevalence of You shall not pass. Countries and regions that have been affected the most are: Australia, United States, Canada, Poland and Russia.
QR code for You shall not pass removal instructions

QR is short for Quick Response. They can be read quickly by the mobile phones. QR codes can store more data than standard barcodes, including url links, geo coordinates, and text.
The reason we add QR code to the website is that parasites like You shall not pass are really hard to remove on infected computer. you can quicly scan the QR code with your mobile device and have manual removal instructions to uninstall You shall not pass right in your pocket.
Simply use the QR scanner and read removal instructions from mobile device.
Information added: 2013-05-20 06:06
Information updated: 2013-05-20 06:06

Additional resources
Attention:
If you know know a reputable website reated to security threats, please add a link here:
add url