---
Rating:
(50/100)
NoAdware review, free download
NoAdware review

NoAdware is a simple, but quite effective anti-spyware program made by the same named company. The product is not very powerful, but it's still able to protect the system from different types of spyware, adware, malicious parasites and unsolicited software.

The program checks the Windows registry, running processes, web browser cookies, local files and folders. The user can choose between two scan modes: Smart System Scan and Full System Scan. The first one is fast (usually does not take more than 2-3 minutes), but less thorough than the full scan, which checks the entire file system, but requires up to 20 minutes to complete. Despite the difference between two scan modes, both are resulting and effective enough. The user can also use NoAdware to examine separate folders or files. Such custom scans can be even more useful than usual ones. However, the user needs to know where suspicious objects are located.

NoAdware uses large spyware definitions database updated on a regular basis. Updates are available in both paid and free versions.

The application implements reliable protection from malicious ActiveX scripts that some web sites attempt to install. It also helps preventing browser hijacks and keeping safe web browser settings intact.

The user can schedule system scans, restore removed objects or add certain items to the ignore list.

The program's scan engine is powerful enough to detect most common threats. However, it doesn't check files content thoroughly, but only compares the names in database with the names of local files. Furthermore, it is prone to minor false positives. Our tests revealed that NoAdware incorrectly identifies popular legitimate software and treats it as malware. For instance, it associates registry keys of eMule, a harmless file sharing program with the BearShare risk. Furthermore, NoAdware recognizes the WinPcap network library as the Spy4PC parasite. We also recorded several issues of identifying third-party components of legitimate software as malicious keyloggers.

The program's interface is simple and clean. However, it definitely requires some enhancements. The main window could support maximizing or provide a comfortable way to browse through the long lists of scan results and item descriptions.

Domains associated with NoAdware are noadware.net and noadware.biz. Orders are made using secure connection.


Positive side:
complete system scan
NoAdware spyware remover was carefully tested by 2-spyware.com research center. The review is the result of our test. If you know additional information about NoAdware please send us the note.


NoAdware screenshot :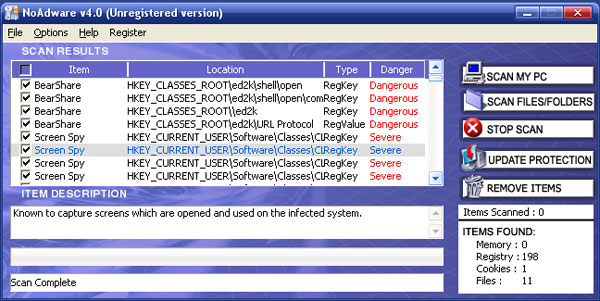 ActiveX shields
Web shields
Information added: 2005-04-11 04:26:13
Information updated: 2006-04-11 05:17:22
Additional resources:
Attention:
If you know or you have a website or page about NoAdware, feel free to add a link to this list:
add url


more resources
Spreading the knowledge:
It is very hard to fight against computer parasites on the Internet alone. If you have a website, we would be more than happy if you would like to cooperate and help us spread the information about latest threats. Remember, knowledge is the most powerful weapon. Help your visitors protect their computers!
Like us on Facebook
Latest spyware news:
Subscribe to spyware news
Ask us