PC Cleaner Pro 2012 review
PC Cleaner Pro 2012 is a PC optimization tool, which checks the registry for errors and fixes them to speed up the performance of the PC. However, some of the errors it finds in the registry aren't really important for computer speed. Additionally, it might even find some problems in a clean registry, which makes in a questionable tool.
PC Cleaner Pro 2012 asks to buy a full version if you want to clean the registry. Nevertheless, considering the fact, that application reports some questionable errors, we would recommend choosing a different PC optimization tool, like Registry Mechanic or CCleaner.
PC Cleaner Pro 2012 download:
NOT RECOMMENDED
ASK US:
Submit question
about PC Cleaner Pro 2012
Corrupt PC Optimizers PC Cleaner Pro 2012 spyware remover was carefully tested by 2-spyware.com research center. The review is the result of our test. If you know additional information about PC Cleaner Pro 2012 please
send us the note
.
Advice
If your Computer seems Sluggish, or you see some unwanted Advertisements, redirects to the strange websites, then we recommend you to scan the system with reputable anti-spyware program. Do some FREE scan tests and you will see if there are some unwanted applications, whitch might be responsible for the tab stability of the system.
We might be affiliated with any product we recommend on the site. Full disclosure in our Agreement of Use.
By Downloading any provided Anti-spyware software you agree to our
privacy policy
and
agreement of use
.
Recommended Software
Positive sides:
quick performance
trial version available
complete system scan
Negative side:
false positives
agressive/deceptive ads
questionable tool
PC Cleaner Pro 2012 screenshot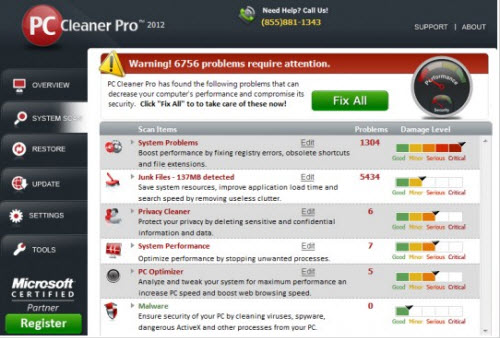 Information added: 2012-06-04 10:04
Information updated: 2014-11-18 13:38
Additional resources:
Attention:
If you know or you have a website or page about PC Cleaner Pro 2012, feel free to add a link to this list:
add url
more resources