April shows slight increase in Win32/FakeRean infections
Over the past few days we've been seeing an increasing number of drive-by downloads and malware incidents that lead user to rogue anti-virus programs belonging to the family Win32/FakeRean. This malware family was actively distributed during the holiday season and eventually went of the charts on the second week of January. Whatever the reason, it was probably the most successful campaign in the history of scareware. Q1 2012, thankfully, wasn't dominated by Win32/FakeRean.
How to identify scareware belonging to the family Win32/FakeRean?
Otherwise known as "Multi-name" malware is more that 30 rogues in 1. It uses individual names and looks for Windows XP, Windows Vista and Windows 7. Win 7 Antispyware 2012, XP Security 2012 just to name a few. Here's what a rogue anti-virus program from the FakeRean family looks like: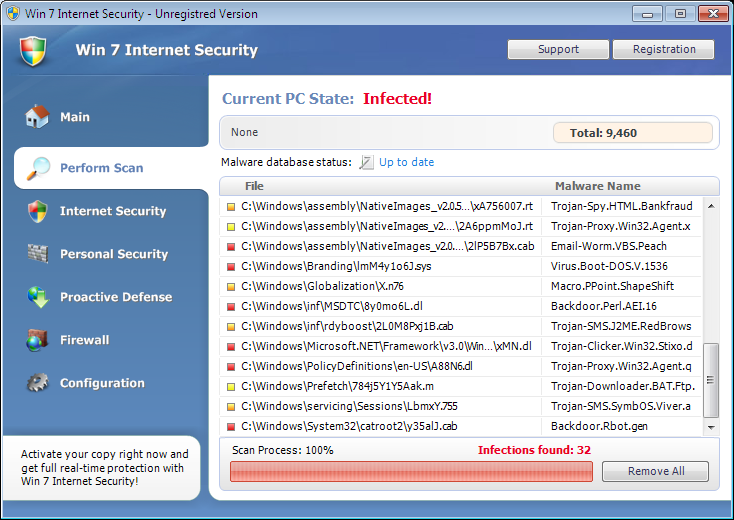 If you have this or similar fake antivirus software your computer, you need to run a full system scan using reliable and legitimate anti-spyware software, STOPzilla for example. Any other genuine anti-spyware software works fine too. And one more thing, do not pay for the rogue security solution. It might look like a real thing for some of you, but it isn't. And it definitely has nothing to do with Microsoft.
How to avoid the fake antivirus scam?
First of all, keep your computer updated with the latest anti-virus and anti-spyware software, and be sure to use a good firewall. Secondly, do not download freeware unless you know it's from a reputable source. Avoid questionable websites and never open an email attachment unless you are positive about the source.