All 2-Spyware.com articles have been moved to the WordPress-based News section. This was done in order to improve searches within documents and simplify submission.
On the right of this page you can see the Categories section. Now it contains News and Articles. Clicking on each of the Articles links brings the full list of documents in category selected.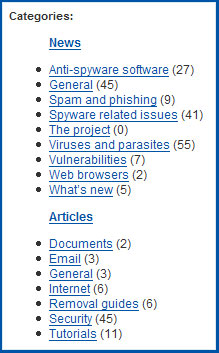 If you have any comments don't hesitate to leave a reply or discuss this in our forum.

March 13th, 2012 at 8:31 am

EVERYONE. FOR THOSE WHO ARE TRYING TO DOWNLOAD THIS PRODUCT, MAKE SURE YOU BOOT YOUR COMPUTER INTO SAFE MODE, BY PRESSING F8 WHILE YOUR COMPUTER IS LOADING UP. THANK YOU,