Carl A Someone signature loved by spammers
If you ever noticed the signature on spam emails or advertisements, you would find a signature with name Carl A. Someone in it, while a whole different person name is on top of it. That's what Michael Johnson found when he looked through the Internet – this exact signature is very common indeed in the phishing community.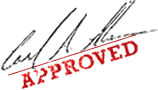 However, if you would try to dig more into this strange phenomenon, you would find some interesting facts. First one is that this signature was used in scams since 2006. Here's a list of names who use this signature:
| | | |
| --- | --- | --- |
| Dr. (Mrs.) Felicia Daniel | Dr. (Mrs.) Mercy Hartemink | Dr. Austin Benjamin |
| Dr. Ferguson Andrew | Dr. Frank West | Dr. George Williams |
| Dr. John Briggs | Dr. Larry Smith | Dr. Mack Anthony |
| Dr. Mark Brown | Dr. Mark Winters | Dr. Martin Evans |
| Dr. Matt Brown | Dr. Richard Morrison | Dr. Robert Mueller |
| Dr. Smith Brown | Dr. Smith Don | Dr. Smith Williamson |
| Dr. Steve Mark | Dr. Tom Wilson | Jenni Falconer |
| Michelle Falkosky | Mr. Christ Rawlins | Mr. Daniel Rougerie |
| Mr. Evans Henshaw | Mr. Graham Smith | Mr. James Norris |
| Mr. Muhtar Kent | Mr. Roberth Mueller | Mr. Teddy Kennedy |
| Mrs. Brunelli Naleen | Mrs. Elizabeth Walters | Mrs. Lisa Parker |
| Mrs. Lourdes Vidaurre | Mrs. Nicola Mckeon | Mrs. Patricia.S.Brown |
| Mrs. Rita Brown | Mrs. Rosemary Clair | Prof. Alex Kingston |
| Prof. Martin Johnson | R. Simon Brown | Rev. James Moore |
| Rev. Robert Morgan | Sir. Muhtar Kent | |
Additionally, more than 15 of scams had the name, which included "Coca-Cola Games/Lottery Coordinator". Moreover, the prizes of these fake winnings are from ?£400,000 to ?£1,000,000 and includes different companies around the UK. Here's a list of companies which names were illegally used with fake lotteries:
BBC
British High Commission
British Telecom
Coca-Cola
ESPN
Fifa World Cup
Golf international
Microsoft
Nokia
Toyota
UK Lottery
Yahoo
These scams tell you that you have won a huge prize and asks you to submit your personal details to claim this prize. There are even some who wants your personal photo. Fact is that people shouldn't trust these kind of lotteries, the possibility to win a Coca-Cola lottery or any lottery for that matter is very unlikely. Never trust it, and even if you actually participated in some lottery, always double check if it's the legitimate lottery email.
All we can tell about this phenomenon, is that probably scammers enjoyed using this image of a signature, or it was the easiest to find. The oldest site we found who was using this image dated to 2003. And yet, we didn't find any information about what is the original owner of the signature. Someone named Carl A…