Table of contents.
Introduction
Installing CounterSpy
Starting CounterSpy for the first time
Using CounterSpy
Using CounterSpy real-time protection
Conclusion
CounterSpy is a powerful spyware remover based on revolutionary hybrid engine, which incorporates traditional anti-spyware and advanced antivirus engines. Such combination allows CounterSpy to detect and eliminate not only typical spyware and adware, but also sophisticated and difficult threats that can be described as mixtures of viruses and regular spyware parasites.
More information about the product can be found in this CounterSpy review.
The following guide thoroughly explains how to use CounterSpy in order to get rid of spyware, adware and other dangerous parasites.
CounterSpy is a paid commercial program that costs 19.95 dollars. However, you can try it out for free by downloading the fully functional trial version from the official web site. Current size of the CounterSpy V2 (version 2.1.906) download is about 33MB. It might take a while.
Now you can install the program. Double-click on the downloaded executable to start the installation. Follow setup instructions, read and accept license agreement and select installation folder. Click on the Install button in the next screen. The setup will copy files and register the program. Press the Finish button. Now CounterSpy is installed to your system.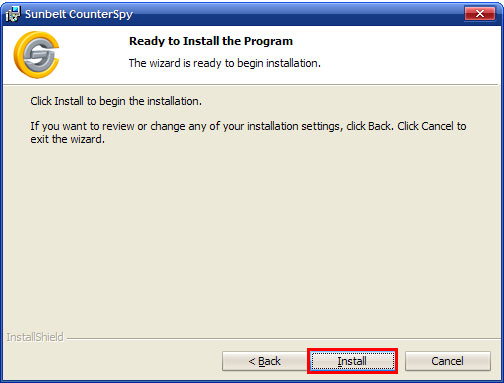 Image 1. Finish the setup
To start the program you have to double-click on the CounterSpy desktop icon or select the CounterSpy shortcut from the Start menu. On the very first run you will see the Getting Started with CounterSpy welcome screen. It is a wizard that will ask you to complete four simple steps: activate your copy of CounterSpy, enable automatic updates, configure real-time protection and join the ThreatNet community. Right after this you will be ready to scan your computer. Click on the Next button to start going through the wizard's instructions.

Image 2. Follow the wizard's instructions
After you activate the program, the wizard will ask you to configure automatic updates. You should enable automatic updates in order to ensure that the spyware remover is always up-to-date. Select Yes, automatically update my CounterSpy software and definitions. and click on the Next button. This step is very important, because without latest updates CounterSpy might be unable to detect and remove new, emerging threats.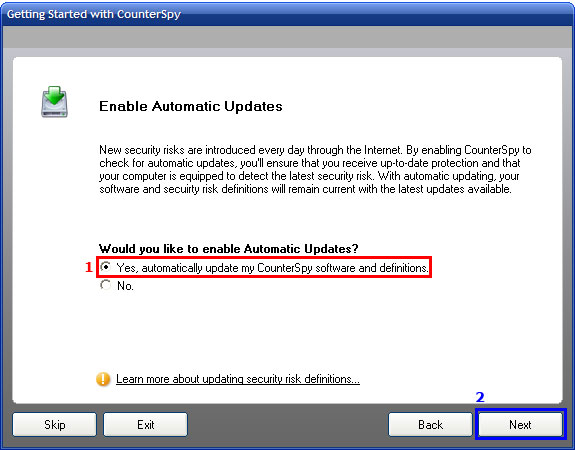 Image 3. Enable automatic updates
At the next step the wizard will ask you to setup real-time protection. CounterSpy offers 13 Active Protection Monitors that watch every system component, and therefore prevent stealth spyware installs, kill running parasites, block malicious web content, etc. It is a generally good idea to enable real-time monitoring. Answer Yes to the question Would you like to enable Active Protection? You will also be asked to select default real-time protection level. Cautious is the most recommended. Choose it and press Next.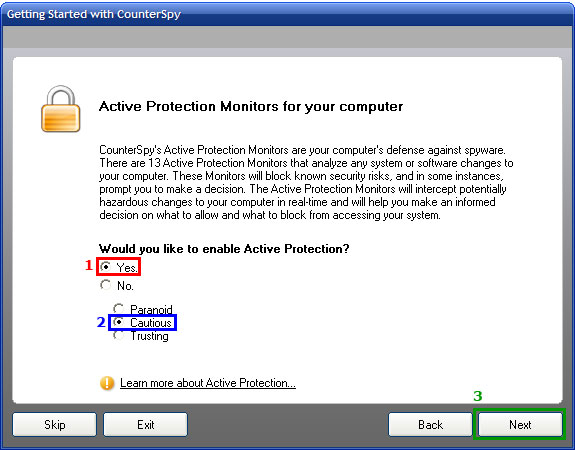 Image 4. Enable active protection
Now you will be asked whether you want to join ThreatNet. The ThreatNet community is a network service that connects all computers running CounterSpy into one research network, which allows sharing information on emerging, yet unknown parasites. This helps to protect ThreatNet participants systems from the most recent risks. You are highly advised to join ThreatNet. Select Yes, I want to help fight spyware. (recommended) and press the Finish button.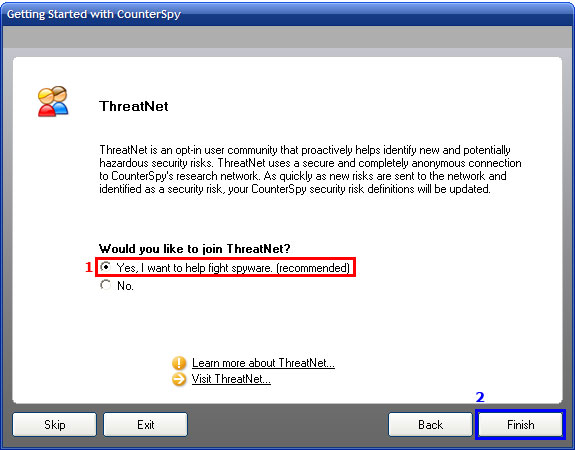 Image 5. Join the ThreatNet community
Now you should see the last screen of the Getting Started with CounterSpy wizard. You are ready to enter CounterSpy now. Clicking on the Enter CounterSpy Now button (on Image 6 it is designated by the red box) will bring the program's main window.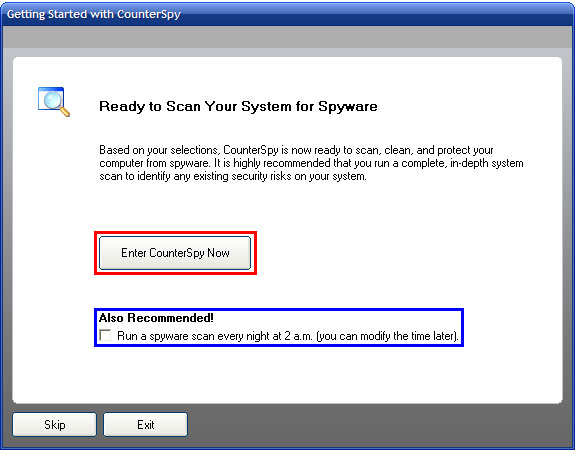 Image 6. Start using the program
In the Also Recommended! part of the screen (on Image 6 it is in the blue box) you can see that the Run a spyware scan every night at 2 a.m. (you can modify the time later). option is selected. It enables scan scheduling. Uncheck this option, if you don't want CounterSpy to run scheduled scans.
Now you should be presented with the main window of CounterSpy. On Image 7 it is divided into five sections. The first one, designated by the red box, is Current System Status. It provides information on last system scan, scan schedules, active protection state, parasite definitions date and automatic updates. It also acts as a collection of shortcuts to main CounterSpy components and tools.
In the blue box is the System Scan section. It is used to run a scan and quickly access scan options.
Active Protection (it is in the green box) is a link to the Active Protection screen, which allows configuring real-time monitors.
In the yellow box you can see the System Tools button. It is a link to system and privacy tools screen.
The area designated by the black box is the Important Information box. Here you can see quick details on CounterSpy status.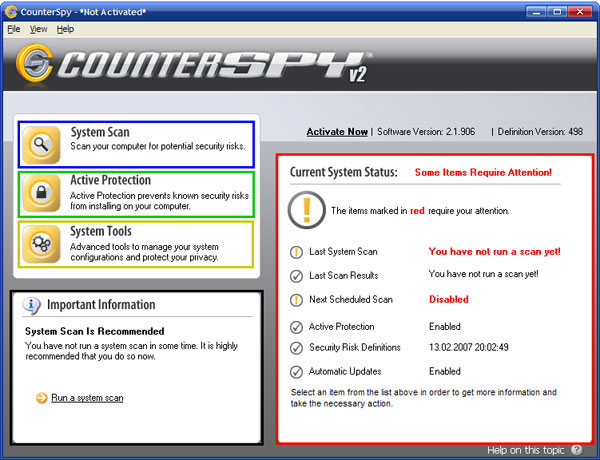 Image 7. Main CounterSpy screen
1. Updating the program
Update the program before you start using it, otherwise some parasites may remain undetected. Click on the File menu (on Image 8 it is in the red box) and select the Check for updates… option. This will bring the Update Service screen. CounterSpy will automatically download and install recent updates. All you have to do is to press the Close button (on Image 8 it is in the blue box) after updates have been finished. Now the application is up-to-date and ready to scan your computer.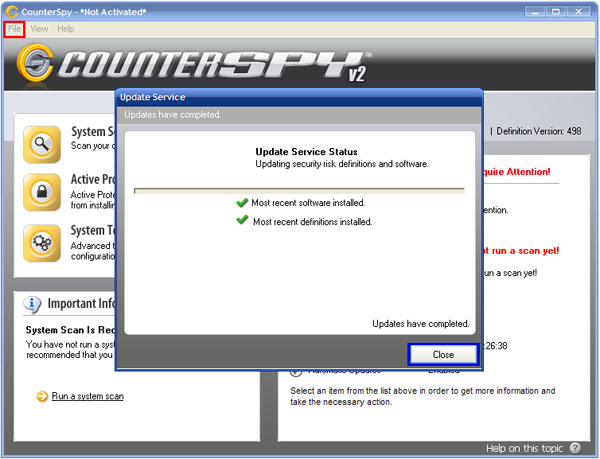 Image 8. Update the program
2. Scanning the system
To perform your first system scan, click on the System Scan icon or link (see Image 7). This will open the System Scan screen. Click on the Scan options link (on Image 9 it is designated by the red box) within it. Select the Full System option (in the blue box) and press the Scan Now button (in the green box) to start full system scan.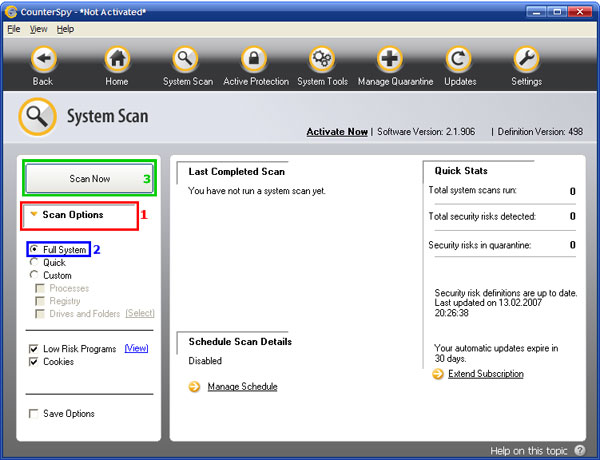 Image 9. Run full system scan
Full system scan takes a while, so be patient.
3. Analyzing detected objects
After a scan is over, the program will show a report, which contains the number of items detected, scanned objects and total scan time. Press the View Results button. The report window will close. Within the program's main window you should see the list of identified parasites. Each item on this list can be expanded. Click on the + icon (on Image 10 it is underlined with blue) next to an item. You will see the complete list of registry entries, files, processes and other objects related to a parasite. Take a closer look at the right pane (it is in the red box). In this area CounterSpy provides detailed information about each threat found.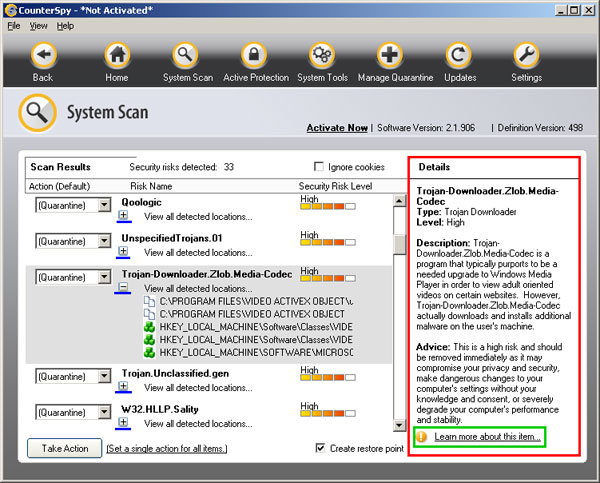 Image 10. Analyze detected threats
To get the full details click on the Learn more about this item… link (on Image 10 it is in the green box). This will open additional window similar to one shown on Image 11.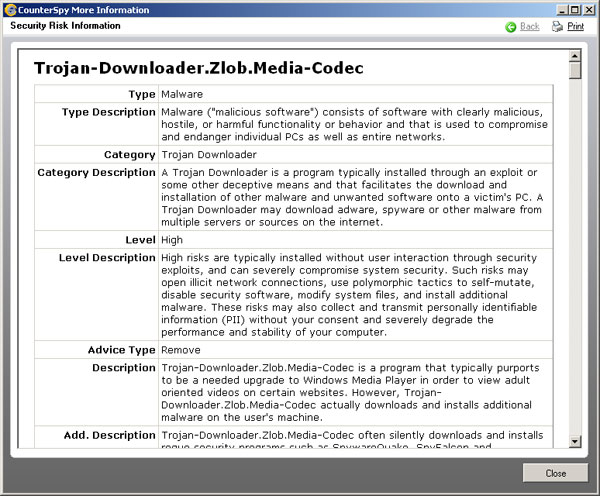 Image 11. Get the full details on parasites
4. Removing identified parasites
To remove a parasite click on the drop-down menu (on Image 12 it is underlined with blue) next to it and select the Quarantine action. Check the Create restore point option (it is in the blue box). This will create the Windows backup (useful in case something goes wrong). Then press Take Action (in the green box).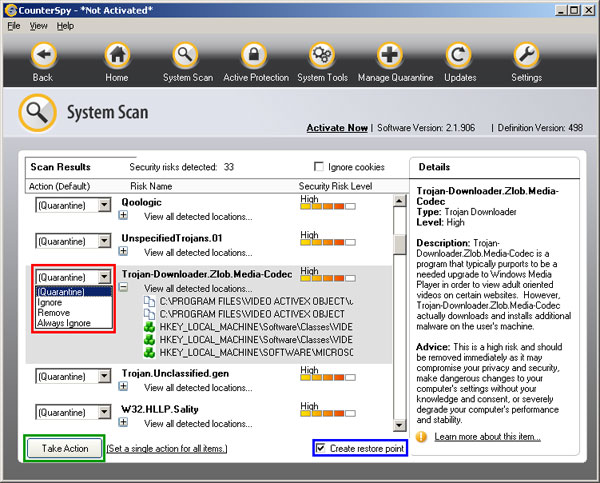 Image 12. Select items you want to remove
Now CounterSpy will ask you to confirm your actions. Press Yes within the window appeared. This will start the removal process.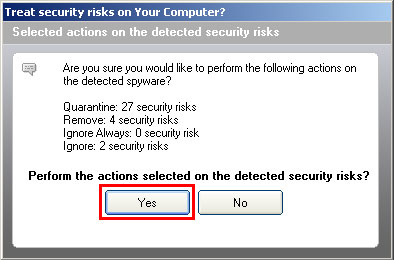 Image 13. Eliminate found threats
The program may need to reboot your computer. Clicking Yes here is highly recommended.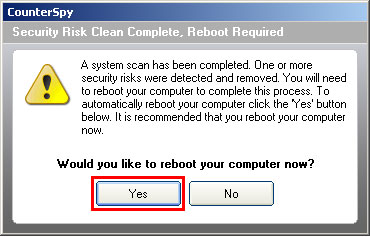 Image 14. Restart a computer
5. Managing quarantined items
CounterSpy maintains a backup of quarantined items. To access the Quarantine click on the View menu, select Spyware Scan and then choose the Manage Spyware Quarantine option (on Image 15 it is designated by the red box). To remove certain item from the quarantine, place a checkmark next to it and click Permanently remove all checked items (on Image 15 this link is underlined with blue). To restore an item click on the Un-quarantine all checked items link (underlined with green).
Clicking on the Check all items link (yellow) will put a checkmark next to each item. Clicking on Un-check all items (black) will deselect all quarantined threats.
CounterSpy will ask you to confirm your action. If you want to restore or delete an item, you must reply positively by pressing the Yes button.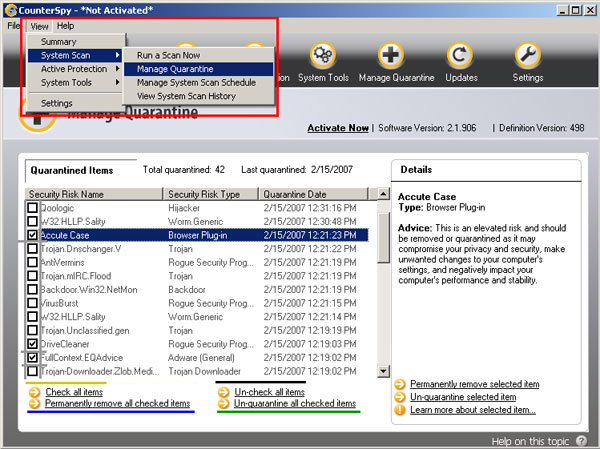 Image 15. Delete or restore selected quarantined threats
1. Configuring real-time protection
CounterSpy provides 13 separate active protection monitors that watch vital system components and take immediate actions when spyware attempts to modify system settings, disable some services, alter web browser configuration, etc. Each monitor can be enabled or turned off independently from the others. To access the Active Protection screen click on the Active Protection link or the Active Protection navigation icon (shown on Image 16).


Image 16. Access the Active Protection screen
All real-time monitors are enabled by default. You are advised to leave them running. However, if you don't need a specific monitor, you can disable it. Select the monitor you want to turn off (on Image 17 the list of monitors is designated by the red box) and carefully read information about it provided below (this area is in the blue box). Then, if you are really sure, click on the Disable monitor link (it's underlined with green). To activate a disabled monitor click on the Enable monitor link (it should replace the Disable monitor link).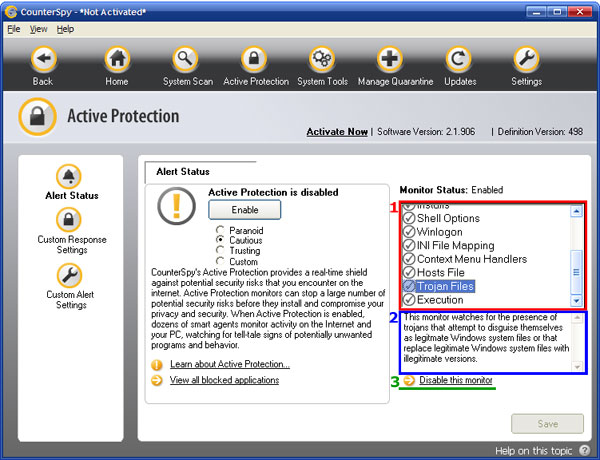 Image 17. Manage active protection monitors
2. Active protection monitors in action
A few examples of active protection monitor activity are provided in this section. They will help you to get the idea how to deal with numerous alerts, notices and warning messages.
a) You have a program you want to install. You double-click on it to start the setup. However, CounterSpy displays the following message: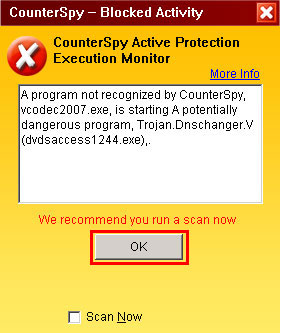 Image 18. Blocked Activity message 1
Recommended actions: do not install the program, it's a parasite! Click the OK button to block it. It is also highly recommended to run a system scan, as more malware can be in your system.
b) You have installed a program or changed its settings. CounterSpy displays the following notice: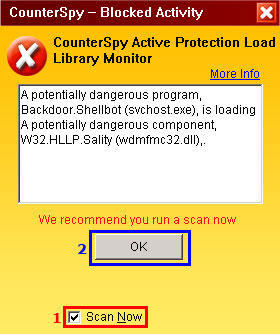 Image 19. Blocked Activity message 2
Recommended actions: remove that program immediately, it's a parasite! Place a checkmark next to the Scan Now (on Image 19 it is designated by the red box) option and click OK (in the blue box) to start a system scan.
c) You computer performance degrades. Suddenly, the following message appears: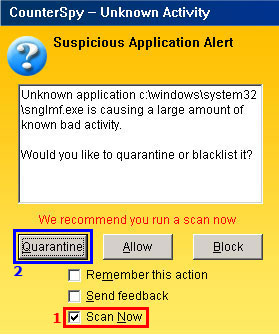 Image 20. Unknown Activity message
Recommended actions: stop malicious activity and run complete system scan – your system is infected! Place a checkmark next to the Scan Now option (on Image 20 it is designated by the red box) and click on the Quarantine button (in the blue box). This will disable a parasite and start a scan.
CounterSpy is a comprehensive anti-spyware solution that includes everything you need to protect your privacy and clean your computer. If you do not like CounterSpy, cannot afford it or simply want to use another anti-spyware, take a look on the list of recommended anti-spyware products.

July 3rd, 2008 at 3:01 am

Sometimes it recognizes "Unknown activity" of a process known by me (first time message), but it identifies the wrong process. For example I updated my definitions for SpywareBlaster and changed the protection for the new downloaded definitions, CounterSpy said vlc.exe (VideoLAN Client) is changing the list of blocked domains. Wrong. It was SpywareBlaster. Same for Spybot Search & Destroy, downloaded updated definitions and applied them to system, CounterSpy believed it was Total Commander changing internet protection and domain settings.

Hmmm.