Dullards at Titan Shield. Or why only idiots make corrupt anti-spyware
It's never been easier to make your own "number one" spyware remover. All you have to do is to grab an infamous rogue like SpyAxe or Spyware Quake, rebrand it by changing some words in its interface or replacing some of its icons and design elements, and voila, now you can sell your own latest solution in spyware removal!
Of course, in a few days you will get charged of illegally distributing ineffective, poor performance software. If you are lucky enough to live in a country where Internet is still a synonym of some alien technology, no one will ever (not in this decade, I suppose) put you in jail for spreading malware, stealing from people and violating copyright.
Makers of Titan Shield, let's say, are just lucky enough. They distribute their corrupt product with the help of dangerous trojans, malicious advertisements and multiple exploits. Their malware threatens users by displaying fake warning messages saying that the compromised computer is infected with dangerous spyware, so that people panic and purchase Titan Shield. Later, they realize what they have done, but never get a refund.
However, this is just not enough for those idiots at Titan Shield. Now they also violate copyright and steal from …us. Yes, it's true. Dullards couldn't write their own description of computer worms and keyloggers, so they decided to copy our text and paste it to their useless web site.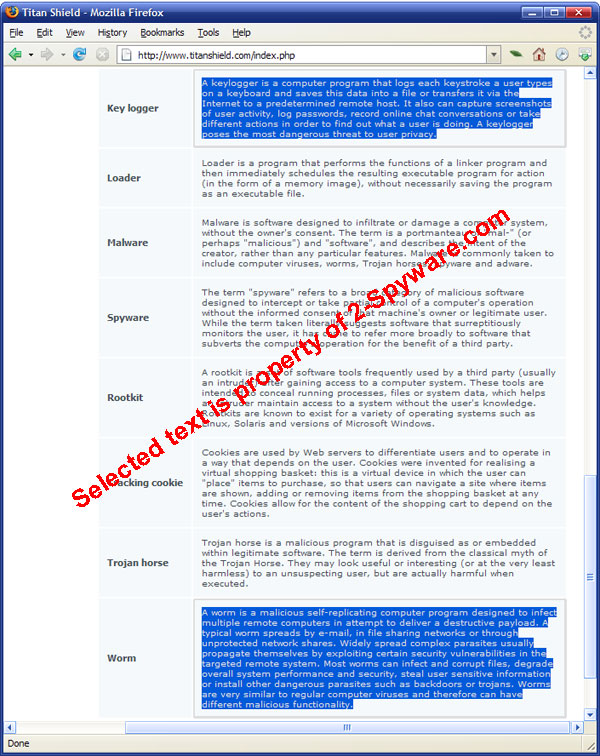 Compare this with our Worms and Keyloggers information pages.
Of course, we didn't let them to do this. Moreover, they never asked. Titan Shield makers are so stupid that they cannot even understand the meaning of this statement:
?© 2001-2006 2-spyware.com All Rights Reserved. Reproduction in part or whole without written permission is prohibited.
Luckily for them, we here at 2-Spyware.com aren't unforgiving, even to our enemies. Simpletons at Titan Shield can continue using stolen text on condition that they will put other our copyright protected information to their web site – this would be the Titan Shield review and Titan Shield removal instructions.
If you steal, don't be selective. You don't want to be uncool, do you?