eTrust PestPatrol tutorial
Table of contents.
Introduction
Installing eTrust PestPatrol
Starting eTrust PestPatrol for the first time
Using eTrust PestPatrol
Conclusion
eTrust PestPatrol is definitely one of the best anti-spyware solutions available in the market. The program's developers have combined the effective scanning engine, huge spyware definitions database and easy-to-use interface in a single product. eTrust PestPatrol fights spyware, adware, browser hijackers, trojans, practically every kind of existing parasites. The following guide will help you to learn how to use this program in order to get rid of any possible infection.
More information about eTrust PestPatrol can be found in our review. Download eTrust PestPatrol.
eTrust PestPatrol is a commercial spyware remover that comes in three flavours: Corporate Edition, Small and Medium Business version and personal version called eTrust PestPatrol Anti-Spyware 2005. All releases are quite different. We will describe the latter. However, unlike Corporate edition it doesn't have a trial, so this tutorial may get useful mostly for those who have already purchased or plan to purchase the product. eTrust PestPatrol Anti-Spyware 2005 costs 29.95 dollars. You can buy it online. For more details please visit the download site.
You can download the purchased program from the Internet. Current package size is about 6 MB, so the download shouldn't take more than a few minutes. Now you are ready to install eTrust PestPatrol. Double-click on the downloaded executable file to start the installation. Follow setup instructions, read and accept the license agreement, select the destination folder. In the next screen click on the Next button. Setup will copy files and register the program. Then you will be asked to add the desktop shortcut. I suggest replying positively, so press Yes. Now you should see the last setup screen and Check for Updates message (Image 1). You can ignore the latter by clicking on the Close button (it is in the green box), as in the next section you will learn how to update eTrust PestPatrol. To finish the setup, press Finish (in the red box).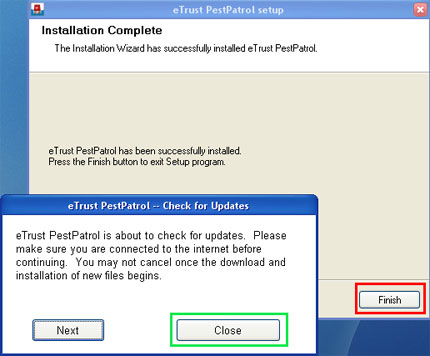 Image 1. Finish the installation
Starting eTrust PestPatrol for the first time

To start the program you have to double-click on eTrust PestPatrol desktop icon or find eTrust PestPatrol shortcut in start menu and click on it. Main program screen will appear.
1. Updating the program
Now you should update the application. This step is very important, because without latest updates eTrust PestPatrol may be unable to detect and remove recent threats. Click on the Advanced Settings option (on Image 2 it is in the blue box) and then in the appeared section select Updates Options (it is in the red box).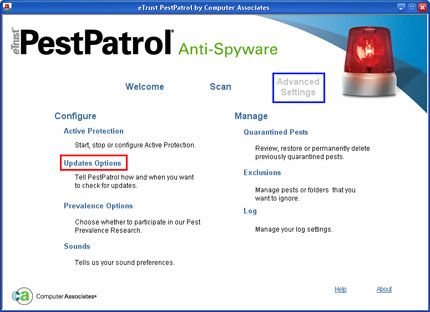 Image 2. Go to the update screen
This will open the Updates window. Within it click on the Check Now button (on Image 3 it is designated by the red box) to check for eTrust PestPatrol updates. Now another window should appear. Within it press Next (in the blue box).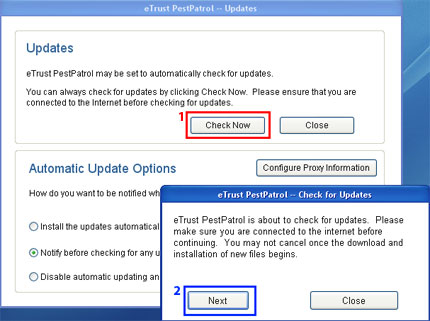 Image 3. Download updates
The application will contact its home server and download available updates. The download may take a while, so be patient. Do not cancel it! Then the program will ask you to apply updates. Reply positively by clicking on the Yes, Apply Updates button.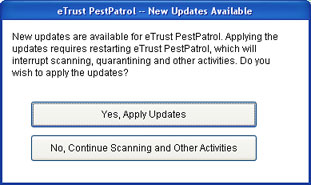 Image 4. Install updates
eTrust PestPatrol may need to restart in order to install updates. You should allow it to do this by pressing the Apply Updates button located in the appeared dialog.
2. Enabling Active Protection

eTrust PestPatrol includes real-time protection monitor called Active Protection. This tool detects running malicious processes, suspicious cookies and prevents parasites from modifying the system. Active Protection is disabled by default. However, you are highly advised to enable it, unless you use different real-time monitor.
Click on the Advanced Settings option (on Image 5 it is in the blue box) and in the appeared section select Active Protection (designated by the red box).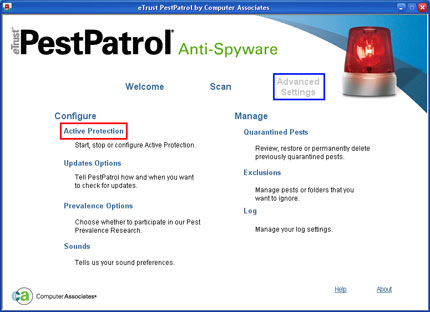 Image 5. Navigate to real-time monitor settings
This will open the Active Protection Settings window. Within it place a checkmark next to the Start Active Protection when my computer starts option (on Image 6 it is in the red box), click on the Start Active Protection Now button (in the blue box) and then press OK (in the green box). This will activate eTrust PestPatrol real-time monitor.

Image 6. Enable real-time protection
1. Scanning the system
To perform your first system scan click on the Scan link (on Image 7 it is designated by the red box), select the Custom Scan option (it is in the blue box) and choose drives you want to check. I suggest selecting all hard disks. To do this place a checkmark next to each fixed drive as shown on Image 7. Then press the Scan Now button (in the yellow box). This will start the full system scan. eTrust PestPatrol will check the Windows registry, entire file system, running processes and cookies.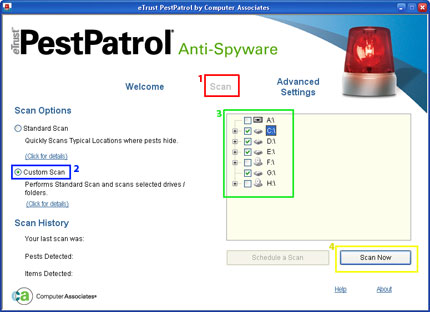 Image 7. Scan your computer
Full system scan takes a while, so be patient.
2. Analysing detected objects
After the scan is over eTrust PestPatrol will display the scan report window, which contains the list of detected parasites. Each item in this list can be expanded. Click on the + icon (on Image 8 it is designated by the red box) next to an item. You will see the complete list of registry entries, files and other objects related to the parasite. To find out more about certain object simply click on it. Detailed parasite description will appear in your web browser.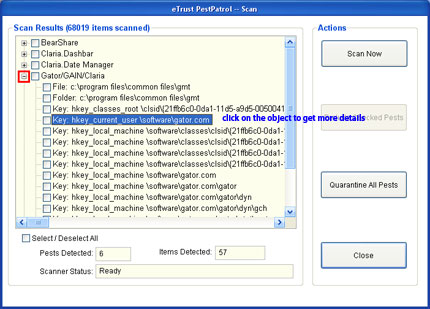 Image 8. Examine critical objects
3. Removing found parasites
To remove all parasites click on the Quarantine All Pests button (on Image 9 it is in the red box). If you do not wish to eliminate all detected objects, but want to remove only some of them, place a checkmark next to items you want to leave in the system and click on the Exclude Checked Pests button (in the green box). Then press Quarantine All Pests. Remaining (not excluded) parasites will be removed.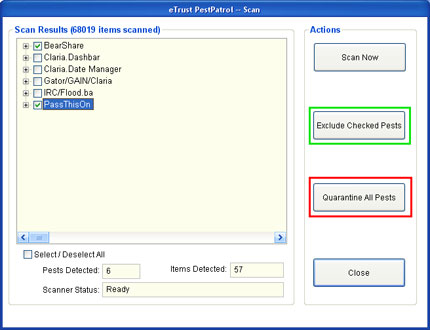 Image 9. Eliminate detected parasites
Note that if you choose to leave some items in the system, the application will display a warning message similar to one shown on Image 10. You should reply positively by pressing Yes. This will confirm removal of items remaining on the scan report list.


Image 10. Remove remaining parasites
Normally eTrust PestPatrol displays another warning message urging to save all your data and exit any programs before removing pests. You should do what it asks and then click on the Yes button.


Image 11. Confirm removal
The anti-spyware may ask you to restart a computer to complete the pest removal process. Press the OK button and manually reboot your PC.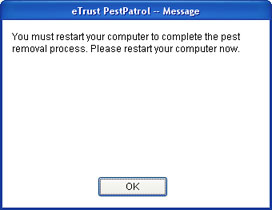 Image 12. Restart your computer if necessary
4. Managing quarantined objects
After each system clean up eTrust PestPatrol backups removed objects, so that they could be easily restored later. This feature can help to repair the system in case harmless essential system objects were accidentally removed. However, if you are sure that all eliminated items were malicious, you can delete them from the Quarantined Pests list. This list is eTrust PestPatrol tool that allows to delete or restore items from backup. To access it, click on the Advanced Settings button (on Image 13 it is designated by the blue box) and within the appeared section select the Quarantined Pests option (in the red box).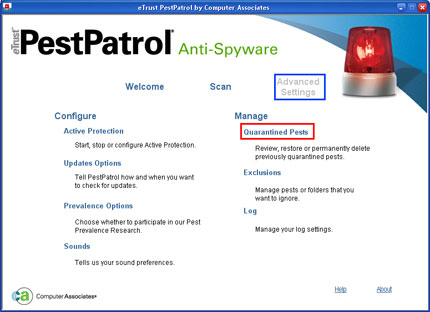 Image 13. Open the Quarantined Pests list
To remove certain item from the quarantine place a checkmark next to it and click on the Delete button (on Image 14 it is in the red box). To restore selected item press the Restore button (in the green box).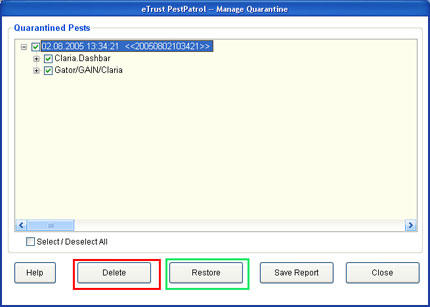 Image 14. Delete or restore quarantined objects
eTrust PestPatrol is a really powerful tool able to fight all kinds of spyware, adware and other parasites. Although it has quite unusual look, it is definitely one of the most efficient and convenient anti-spyware solutions available. If you do not like eTrust PestPatrol or want to use another anti-spyware, take a look on our recommended anti-spyware programs https://www.2-spyware.com/anti-spyware.